Costume designer Joan Bergin
July 15, 2011
Emmy award winning costume designer Joan Bergin sits down with Caomhan Keane.  Entertainment.ie
How did you first get involved with Riverdance?
I knew Moya Doherty from when I was a freelance designer and we were both working on an old style variety show called Sunday Nights at the Olympia. So when Riverdance first started I met with them and they were very exited about this project. But, on the Friday previous to that meeting, I had signed to do Translations on Broadway with Brian Dennehy and although it was for just six weeks it was the six weeks where they would be setting up the whole thing so I lost out then.
But when it came to Broadway they were looking for a more' Broadway' image as it were and they came back to me and asked me to do it then.
Can you tell me about when you first saw it? Any idea of how big it was going to be?
I was gob smacked like everybody else. For years I had gone to great friends of mine from the Focus Theatre, the Burke Kennedy's, who would have a big party in their house for the Eurovision Song Contest. And at the interval everybody went down stairs for tea and sandwiches. I stayed up, as I knew Moya had directed the interval piece and I wanted to see it. And I can remember dashing down to the kitchen and saying 'come up, come up there is something amazing happening'. And just as the gang poured into the room Flatley came out onto the stage with that that great big leap. You knew then that it was going to be this big thing.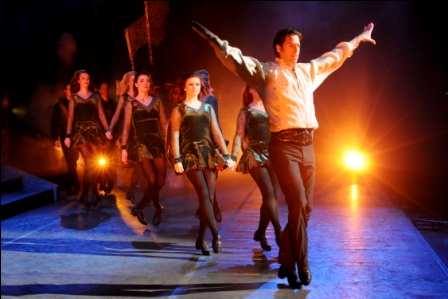 What went through your mind when they first told you the concept for the show?
We were in a minimalist time. That was the look for theatre shows. But what happened around 2000, as Ireland was coming into its own again, there was a terrific interest in arts and crafts and Celtic design in general. And because the story is rooted in the growth of Irish mythology and Irish history I thought, "why don't they don't go for something that's more Harry Clarke's Stain Glass window than just your average dance show". That is where the central idea came from.
What kind of research did you do?

I went and studied Jim Fitzpatrick's work. We just knew these iconoclastic thing of his sexy, 70s style women with these perfect bodies and pert breast, etc. But what I hadn't known about Jim's work was that he did extraordinary background work into drawing and the sagas of Queen Maeve. So his Goddesses were built on very solid backgrounds.
And I am not saying that I carried all those things into Riverdance but I tried to distill quite a bit of that into the look of the show. With the colors I looked at how they used to dye fabric with berries in Celtic times. Everything from blackberries to apple skins. And once I got that rich color I used a lot of stretch velvets. I travelled the country finding people, who could contribute, people who embroidered and made crowns. So it was a great showcase when it opened on Broadway first.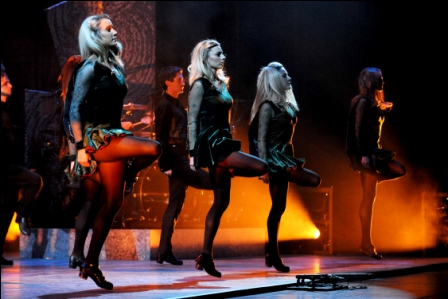 What were their specifications for the new costumes?
What you can never forget about Broadway is that it is all about bums on seats. It's what every theatre promoter or artistic director needs. But on Broadway it has got to bring the punters in. There is no point in doing something that is marvelously refined or esoteric. It has to have the WOW factor. The girls have to look sexy. The amount of time the producers use the word sexy, it's ridiculous.
What do you have to think about regarding a dance show that you don't have to think about when you are doing, say Borkman, at the Abbey?
For anybody wanting to go into costume design for dance, it is quite a humbling thing. Because you spend some time coming up with your ideas yet they spend weeks, months and in the case of ballet dancers years perfecting their stretches, how their neck looks. So their concern is 50% the line of the body and 50% visual to the audience. It is a very disciplined way to work and good for you.
Posh Spice was an influence wasn't she on one of the numbers?
That was the great dress worn during what everyone calls the main Riverdance number at the end of the first act. We had a dress, whose top was a very pretty shape but John decided from the balcony looking down people saw a lot more than just the dress. So he asked me to have a look that fitted more closely to the body on top. And around the time they asked, Posh Spice's wedding dress was all over the news and what was remarkable about that was that, at that time, she was quite small breasted yet her dress had a sculpted front with a bra built into it as another piece of the dress.
Are the outfits updated throughout the tour?
One of the things people forget about costume design is that when you are done, you walk away. It doesn't mean that you are not consulted again but the wardrobe supervisor of a show does all the logistics of running the show. So that's one of the things you bear in mind when it comes to the design of a dance dress. There is no point in making it so it can't be adjusted. It regularly has to be adjusted and on a tour it's the kind of thing people don't know about. Often at the last minute someone sprains their ankle and someone has to step in and wear that dress. So the dress needs to be a classic shape that can be adjusted.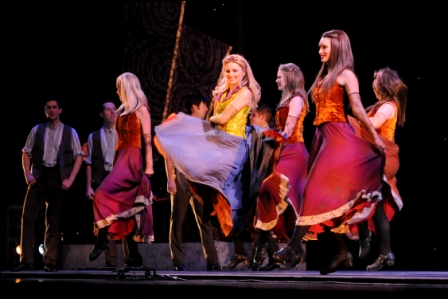 Do you think it's tougher for costume designers now then it was when you were starting out?
It's a lot more competitive and there is a lot less money. People are saturated with choices so it is much more difficult to gamble on something that is absolutely huge. I mean the Tudors wardrobe is like a million dollars per series, a huge budget, but that is rare.
Nowadays a lot of people study costume design in college. The problem is in this country is that it is tricky to get started and it is trickier still because the big films aren't coming here any more. I started in a golden age but it didn't continue.
Good training will always help. Joe Dowling who I just worked on The Field. He said it was great to be working with somebody who wasn't just goggeling the look. You bring what real people of that time wore.
What do you think is the most important thing for a Costume Designer to think about when costuming a show?
What I always say to them is that no experience is wasted. Going to shows in back street theatres, Cirque du Soleil, go see it. See the theatre in a boxing match. You have to remain open and don't get carried away that the bust has to drop 15 inches from the back of the waist or you will never achieve much. Talent will out. If someone desperately wants to do it. Stick to it. It will be frustrating but you will probably make it. It's a tough job.
Riverdance runs until 28th August at Dublin's Gaiety Theatre and at the INEC Killarney from 30th August until 4th September.