'Magical Riverdance steals the hearts of Medicine Hat'
April 21, 2011
Medicinehatnews.com
Lee Anne Charbonneau
18th April 2011
As a mist-bound full moon rose over Medicine Hat Sunday night, "Riverdance: A Journey" recreated its mystery and magic indoors at The Arena.
While a backdrop displayed jewel-toned scenes of natural splendor including a hot-pink sunrise, a green-blue swirl of seas and an awesome hazy round moon, the international cast of 30 dancers and musicians inspired the audience to cheer and whistle at the end of every glorious number. Principal dancers Caterina Coyne from Galway, Ireland, and Joe Moriarty from Columbus, Ohio, only the second Riverdance lead ever to hail from North America since the show's inception in 1994, stole the hearts of the local audience with their smiling grace.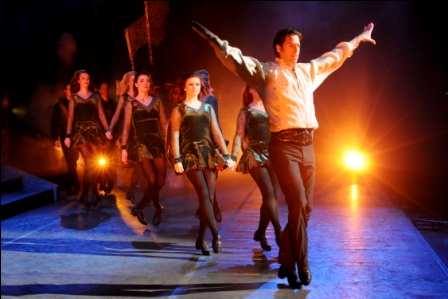 At stage left was a tight quartet of keyboard, fiddle, saxophone and Irish low whistle whose music had exciting elements of jazz and pop yet was unmistakably Celtic. One number featured the lonesome and beautiful sounds of the uilleann pipes played by Matt Bashford of Limerick, Ireland, while another, in the second act, highlighted the amazing talents of the drummer. Riverdance percussionist Mark Alfred, a native of Monaghan, Ireland, commanded stage right. Masterfully drawing out haunting rhythms from the ancient bodhran then alternating to a rock kit that boasted double kick drums, hanging chimes and at least eight cymbals, Alfred was sensational.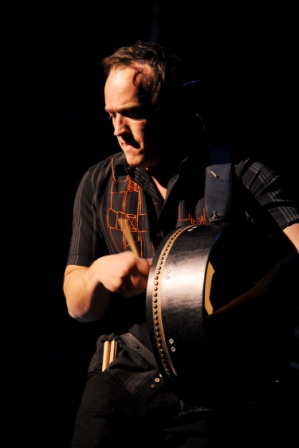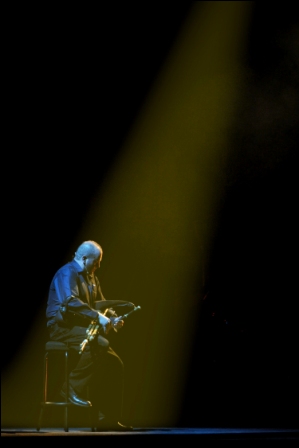 The dancers were immensely talented and mesmerizing to watch as they executed intricate footwork and sustained rapid rhythms with not only seeming ease but flash and flair. Costumes were impeccable constructions of satins and sequins, brocades and velvets in rich green, silver, black, purple and red. Flamenco dancer Marita Martinez-Rey, from Jaen, Spain, was aflame with passion in an orange-crimson gown of fire. And in urban-American street apparel, New York dancers DeWitt Fleming and Michael Wood were the focus of an incredible competition which featured humor as much as it did talent.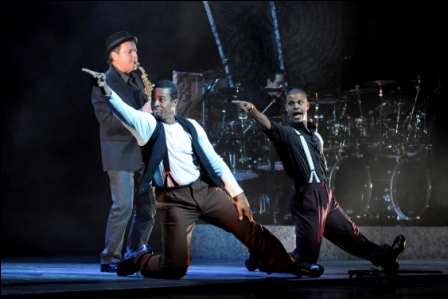 Periodically in the performance, a soothing male voice would introduce a few lines of lyric narration to guide viewers through the story of how Irish culture crossed the world's oceans and took root in foreign lands.
"We rose like a strong wave on land."