'A family show with something for everyone'
May 3, 2011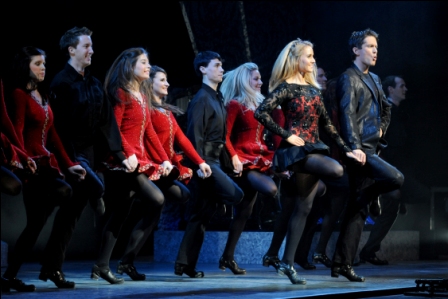 By Joe Couture, Leader-Post April 28, 2011
Soloist Craig Ashurst has been performing in Riverdance for six years.
The great thing about Riverdance is that it has a broad appeal, according to its principal dancer Craig Ashurst.
"Riverdance can really cater to anyone's needs," he said. "It has something for everybody and it's also a family show. It's got the long line of synchronized Irish dancers that it's completely famous for, with incredible choreography.
"It's got a flamenco dancer, two tap dancers and incredible music with a live band – the music is Grammy Award-winning music. It continues to get people out of their chairs at the end of the show and dancing in the aisles. It's an incredible show to see."
Perhaps that broad appeal is why Riverdance has been so successful worldwide. And it's definitely been successful.
With its fusion of Irish and international music and dance, the show broke box office records during its world-premiere run in Dublin in early 1995. When the show transferred to London in June of that year, the original 10 performances were increased to 151 in subsequent months.
Then there was a well-received tour to New York, Belfast and Cork. Since then, Riverdance has packed theatres across the globe. In its first 15 years, Riverdance played over 10,000 performances, was seen live by over 22 million people in over 300 venues and travelled over 900,000 kilometres – more than the distance to the moon and back.
It has also been a huge commercial success, playing to a television audience of more than two billion, selling over three million copies of its Grammy Award-winning CD and selling more than 10 million Riverdance videos and DVDs.
Currently, there is one production touring in North America (the Boyne) with another production touring the United Kingdom and Europe (the Corrib), a production touring Ireland every summer (the Foyle) and a newly formed company (the Bann) touring through China. Each company consists of up to 65 cast and crew members, performing to the music by Bill Whelan.
Ashurst, who has been with Riverdance for about six years, started his competitive dancing career at age five in his home town of Melbourne, Australia. By the age of 17, he had won nine state and 10 national titles.
After moving to England, he went on to win other major titles and finished second three times at the world level. He then began a professional career that led to his current lead role with Riverdance.
"I started Irish dancing because my mother and my sister were born in Ireland," Ashurst, 27, said. "With my mom being born in Ireland, to keep Irish heritage in the family, my sister started dancing, and I wanted to do it, too.
"When the success of Riverdance occurred, it was a whole new situation. That's how me wanting to become part of Riverdance happened. Being a part of Riverdance is like the pinnacle for an Irish dancer, of course. It's been an incredible experience, being able to travel to places where I never would have dreamed I would have travelled."
On the current North American tour, the show is performing in 76 cities in five months, Ashurst said, noting the Canadian part of the tour is a little bit easier on the group, because there is more travel time between cities.
"And we get to see all of this beautiful scenery," he added, noting the group had recently driven through the Rocky Mountains.
"The schedule is intense, so getting from place to place often is hectic. We travel overnight on a sleeper bus and make the show happen for every city.
"There's a physiotherapist who looks after us for all our shows. Often after a show, you jump into the ice bath, to take the inflammation down after all the constant pounding.
"Because of all of that, we need to keep ourselves motivated and inspired, and I think we've got a fantastic group of people surrounding us that are able to do that and are able to keep us doing what we love and enjoying it."
The cast and crew are ready to give great shows in Regina, playing three nights at the Conexus Arts Centre next week.
"It's a show not be missed," Ashurst said
"It is a spectacular show. There's a reason it's been running so long."
Riverdance performs in the Conexus Arts Centre, Regina, SK, Canada May 3 – 5
Get your tickets here