Lots To Do and See with Riverdance In Los Angeles!
January 20, 2010
Laura Yanez, Soloist, Boyne Company
Hello all. This week we arrived in Los Angeles for a two-week run at the Pantages Theatre in Hollywood. I have never been to L.A. before, and it has been such an exciting week being an absolute tourist around the town. There was so much to do, I don't even know where to begin with this blog!
We are staying in the Renaissance Hollywood Hotel and Spa on Hollywood and Highland. My room is on the 15th floor, so I have a spectacular view of the Hollywood hills and of course the famous Hollywood sign! This hotel is also housing the cast of this season's "American Idol", which just started taping this week. No sign of Simon Cowell though! We are also on the same block as the Kodak Theatre, and the day we got in they were debuting Denzel Washington's new movie "Book of Eli". We saw the beautiful red carpet and several prop vehicles from the movie, but no celebrities (yet!)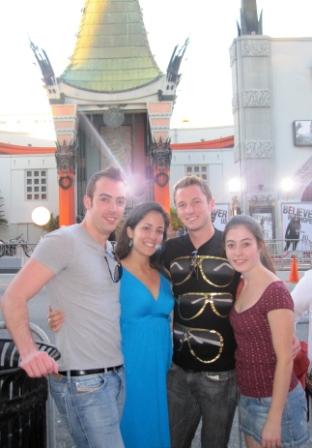 Walking to sound check at the Pantages Theatre was a lot of fun, because the journey is part of Hollywood's "walk of fame", with different celebrities' names in golden stars on the sidewalk. Seeing famous stage and screen stars like Bing Crosby, Gene Kelly, Gypsy Rose Lee and Bernadette Peters was quite the inspiration on the way to the show. On our opening night, there was a great Los Angeles surprise before the show. A red carpet was set up and paparazzi were taking pictures of various celebrities who were seeing the show. I snapped a few for all of you!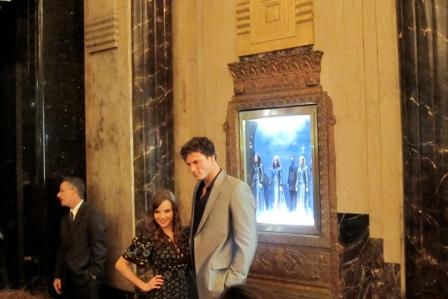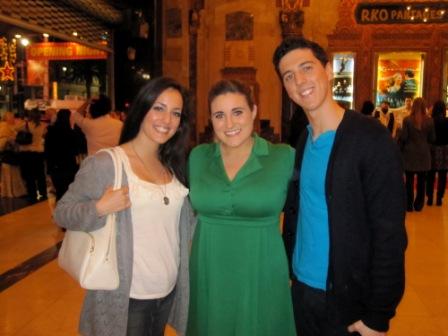 The audience was fantastic our opening night, and every day thereafter. One night, we even had a standing ovation for the entire ten-minute finale! It is such a pleasure to perform in such a beautiful venue to such appreciative audiences after a day full of taking in everything L.A. has to offer. You really couldn't ask for any thing more.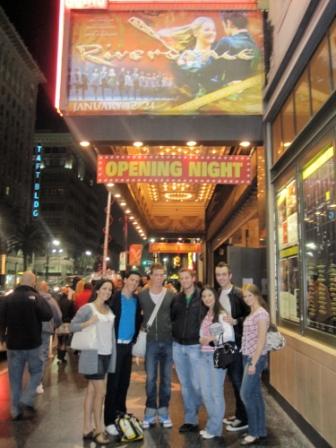 I wish I could list all the activities everyone has been up to, but if you have been to L.A, you know there are so many different things to do. I went to a taping of the Craig Ferguson show, which was pretty hilarious. Almost everyone has gone on a Star Tour, taking a tour of all of Hollywood and seeing where various celebrities live. We saw the final homes of Elvis Presley, Frank Sinatra and Michael Jackson, to name a few. The landscaping and hilltop settings of these beautiful houses make them seem a bit like American castles!
Some notable places we've been are the Farmer's Market at the Grove, Rodeo drive and the Chateau Marmont. The Chateau Marmont seems to be the place to go for celebrity sightings… just today tapper Jason Bernard saw Academy Award winner Marion Cotillard as he was leaving the restaurant! Irish dancer Chloey Turner even had the unique experience of a one on one training session with her favorite fitness celebrity, Jackie Warner (of Bravo's "Work Out" fame). Our eyes are always open for celebrity sightings, but I have yet to see anyone I have been really star-struck by… next week is my chance, I hope!
On Thursday, we all went to a lounge on Hollywood Boulevard called "East" for Irish dancer Ellie Maguire's birthday. It was a beautiful spot, and a special birthday surprise for Ellie was a conversation with singer James Blunt, who happened to be in the same spot!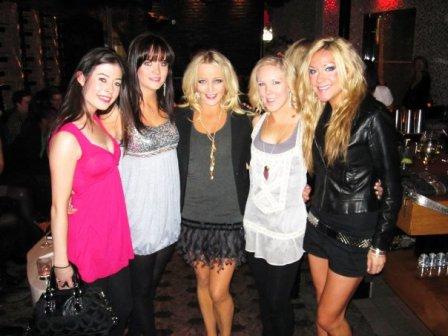 There is such an energy to this city, and it seems like something amazing could happen at any minute. Perhaps the most fantastic story of the week goes to tapper Jason Bernard and flamenco dancer Rocio Montoya, who attended a taping of "The Price is Right". I can't reveal what happened during the show, BUT I will say watch the show when it airs on March 5th for a Riverdance surprise!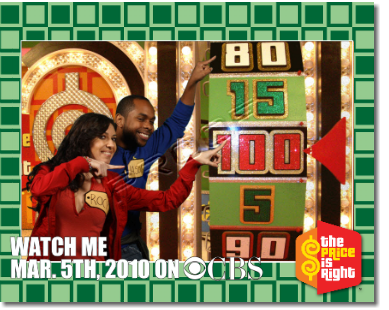 I hope I haven't left anything out of this lengthy blog entry, but we have another week in this city to have even more adventures if I did!
Signing off until next week,
Laura