Rockford and Indianapolis
June 3, 2009
Kevin Horton, Dancer, Boyne Company
This week brought us to two more cities; Rockford, Illinois and Indianapolis, Indiana.  Rockford was a quieter town and most of the time was spent lounging around the hotel and taking advantage of the hotel pool and gym.  What was nice about the area around the hotel was that you could walk to many different restaurants and coffee houses.  There was a Ruby Tuesdays, Starbucks, and a massive Wal-Mart only a few minutes walk.  I have never seen a Wal-Mart this big, many of the cast wandered around purchasing everything from DVDs to food for the room, since we had mini fridges and microwaves.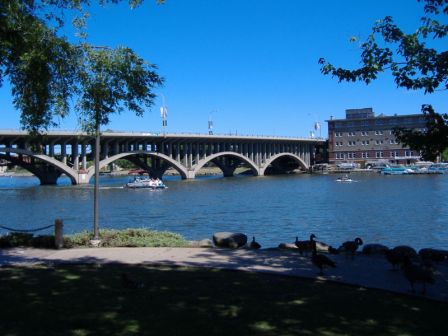 I was lucky enough to have my parents come for a visit, as my home town is only 2 hours North from Rockford.  It is always great to have family visit on such a long tour.  Also, dancer Brian Mullane is from Chicago and had some of his family in for a visit.
The theater we played in was called the Coronado and is from the early 1900s.  Back in the day, it was used as an old movie theater and was later converted to the way it is today.  It was gorgeous inside and carried a lot of character.  We had to stay about a 20 minute drive from the theater, due to the lack of accommodations in the immediate downtown area, so we didn't get to see much of the town, but a quick walk around was all you needed to check out the city.
Before we knew it, we were on the way to Indianapolis.  There happened to be the National Fire Convention in town for the weekend which brought 30,000 firemen from all over the country to the convention center, so we were not able to get a hotel booked in town.  We stayed 30 minutes away from the theater, which was kind of disappointing, but nothing could be done.  The town has a lot of charm and is home to Indiana University, so there were many shops, restaurants, and boutiques that were spread throughout the city and a massive fountain statue in the center of town.  Not much time was spent around the city since we had 5 shows in three days.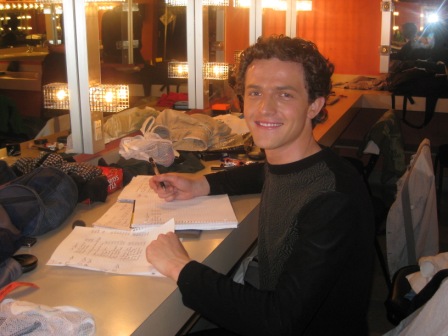 Some of the troupe are studying to take their teachers exam to become a certified Irish Dance instructor, so when we are in a place where not much can be seen, time is spent studying.  The exam can be quite difficult, so it is really important to take time and learn all of the material required to become certified.
Next week we continue our journey through the midwest to Saginaw, Michigan and St. Louis, Missouri.  Until then…
Kevin