Eithne Walls
June 4, 2009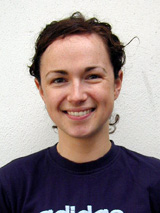 I know I speak on behalf of the entire Riverdance family when I say we are all deeply shocked and saddened at the tragic loss of our friend and colleague, Eithne Walls.
Eithne Joined Riverdance in 1998 as a member of the Flying Squad and then danced full time with the Shannon on Broadway.
She later joined the Foyle for the first run in the Gaiety in Dublin in 2004. Eithne was someone who once you had met her you would never forget her.
I never saw her without a smile on her face and she just seemed to be always happy and enjoying life.
However that constantly smiling face did not mean that she was simply skimming through life, far from it, anyone who travelled with Eithne will remember the medical books always on the go and her constant attention to her studies.
Eithne was someone you could always sit down with and have a chat, she was always interesting and interested and without doubt she was someone with a rich future stretching out ahead of her.
It is hard to believe that such a bright light could be quenched so early and while burning so brilliantly.
Our thoughts and prayers are with her family and friends at this time.
Julian Erskine
Senior Executive Producer
Riverdance
Rockford and Indianapolis
<
Saginaw, Michigan and St. Louis, Missouri
>