Interview with Riverdance Costume Designer Joan Bergin
March 30, 2009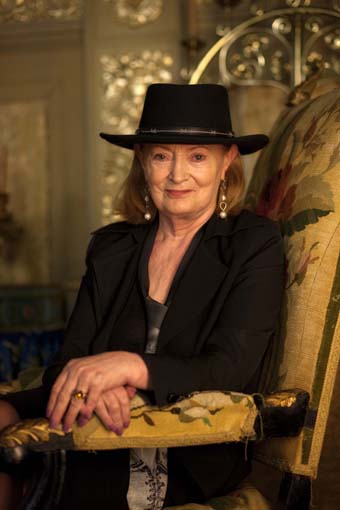 Joan is one of Ireland's best-known film costume designer DFGs working at home and abroad. Film credits include My Left Foot, In the Name of the Father and Dancing at Lughnasa. She began her career in Theatre and Architectural Design, winning awards in both areas. She designed Brian Friel's Translations starring Brian Dennehy on Broadway, and returned to New York's Lincoln Center in 1999 for their Friel season.
More recently her work was seen on television in David Copperfield and on film in Veronica Guerin, directed by Joel Schumacher. Recent projects include The Prestige, shot in LA, and The Tudors, a ten-part series for American Showtime with Jonathan Rhys-Meyers as Henry VIII for which she won two Emmy's. Her most recent theatre work includes costume design for Sam Shepard's new play Kicking a Dead Horse at the Abbey Theatre Dublin.
You have done a lot of work for film and television productions. How does working on a dance production differ to this?
I think you can never learn enough about dance. The dancers' bodies have  to move a great deal and in very specific ways.  Luckily I had done some designing for dance shows before Riverdance so I was aware of this. That is really the first priority.
You learn to design and extend stuff to the whole look of the body and enhance what the dancers are trying to do.
Riverdance is a very collaborative form and unlike a lot of dance companies, it is in many ways more akin to ballet because it is telling you a very rich detailed story. The costumes, lighting and sets all extend this so that the people watching know what part of the history the story was from and of course, we want it to look as fabulous as possible.
What was the main criteria you were given when you were brought on board as the Costume Designer for Riverdance?
One of the interesting things is I was originally asked to do the show but a few days prior to this, I had got my first Broadway show. I didn't come onboard again until Riverdance was going to Broadway itself. So allowing for this stage of five years into the production of a very successful show, there were certain given things in the brief that I had to hold. Because it was a Broadway show and the whole climate of gorgeous embroidery and jewels were looking a lot richer, it was my job to take it to another level.
In what way have the costumes changed from the last tour?
One of the great things about Riverdance in this day and age is that the Riverdance Company, namely the Director John McCulgan and Moya Doherty, the Producer, never take their eye off the show. If you go to them to approve something, it can't be something vast because every time you make a change, you have to take account that it would be a major change for the entire troupe of dancers. Within reason, they do keep the look fresh and up-to-date and as well as that it is very high maintenance. The odd time that I go to police the show I would always be delighted that it looked so good.
What have been the main challenges of working as a costumer designer for Riverdance?
I think the fact that most theatrical productions have anything from six weeks to six months of a life and they would be very lucky to have that kind of longevity. With dance and particularly with touring companies, the challenge is not just the fact that the costumes constantly have to look sparkling and new, but that the fabric has to be washable so that it is clean for each show. The sheer logistics of a touring company are absolutely immense and it takes a lot of work from the wardrobe department. When you look at the designing and quick changes  you have to bear all this in mind, as well as the fact that you are looking for the wow factor in a lot of the costume numbers.
What have you got lined up for your next project?
At the moment I am working at the Abbey Theatre on a Sam Shephard play with Stephen Ray and Sean McGinley and then I start back in two months time for the fourth and final series of The Tudors. I sometimes think I have got a life's work ahead of me!  IDM