Riverdance at Education Without Borders Dubai
April 2, 2009
In celebration of the diversity of the cultures of the world, Riverdance performed at the Education Without Borders 2009 Gala Dinner and Desert Night at the Atlantis Palm, Dubai on the 30th March 2009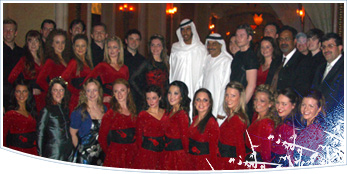 Education Without Borders is a biennial international conference creating networks across cultures in order to understand, and generate solutions for some of the world's greatest challenges.
The Riverdance Flying Squad with a cast of 30 Riverdancers and musicians, entertained the international audience with extracts from Riverdance the Show including Cloudsong, Lift the Wings, Heartland and Riverdance Finale.
The Riverdance 'Flying Squad' is a dedicated team of Riverdancers and musicians who divide their time between publicity work for Riverdance -The Show and performing at worldwide events.
On this occasion Riverdance performers travelled from Dublin, London, Munich, Calgary, New York and Chicago to Abu Dhabi and then onwards to Dubai to take part in this international event .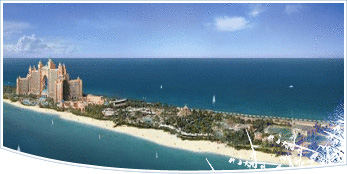 The show was originally to be staged on a purpose built stage on Palm Island over The Gulf. Unexpected and unseasonal thunder and lightning storms brought the performance indoor to the luxurious Atlantis Palm Hotel. The weather delayed rehearsals with the final rehearsal finishing at 3am in the morning. The show opened on time and received a tremendous audience reaction.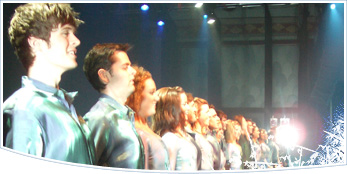 The Dubai Cast & Crew included Michael Belvitch, Stephen Brennan, Karl Callaghan, Nora Cannon, Doireann Carney, Shona Cobbe, Catherine Collins, Nikkola Connor, Benedict Devlin, Maeve Donohoe, Deirdre Dowling, Claire Doyle, Aisling Drennan, Danny Erskine, Seamus Fearon, Susan Ginnety, Paula Goulding, Kevin Hanafin, Orla Keane, Tim Kochka, Michael Maguire, Siobhan Manson, Declan Masterson, Mairead Masuda, Shane McAvinchey, Ryan McCaffrey, Mark McCole, Niamh McCormack, Kevin McGing, Sean McKeown, Yvonne McNelis, Ian McTigue, Cal Moran, Laura Mulligan, Niamh Ni Charra, Colm O Foghlu, Damian O'Neill, Oran Ostinelli, Catherine Robbins, Kevin Saunders.