Interview with Riverdance Lead Dancers Maria Buffini and Joe Moriarty
March 26, 2009
Female and Male Leads, U.K. Farewell Tour 2009, Corrib Company
Interview from March 2009 special Riverdance issue of Irish Dancing Magazine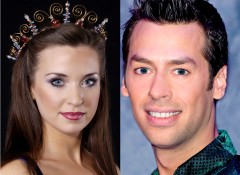 Maria began Irish dancing at the age of four with the O'Shea School in Dublin, Ireland. She danced competitively and toured extensively with the school, performing from a young age at festivals in Ireland, Europe and America. She began working with Riverdance in 2004 and has since danced with the show in Ireland, Europe, North America, Japan and Taiwan.
Joe was born and raised in Columbus, Ohio, U.S.A. and his Irish connection comes from his father's side of the family. Joe took up Irish dancing at the age of eight, joining the Richens-Timms Academy of Irish Dance. Joe went on to win age-group titles at the US Mid-western Regional and US National Irish Dancing Championships. Before joining Riverdance in August 1997, Joe had progressed to competing at World Championship level on three separate occasions.
What are your roles in Riverdance?
Joe: Maria is the female lead and I'm the male lead
Maria: We try not to swap around too much!
What's your history with the show?
Maria: I started out dancing in competitions while I was at school. When I went on to study science at college, I kept on training.  I performed at Busch Gardens Williamsburg in the US and then in 2005 I got the opportunity to join Riverdance and tour Japan. I've been touring ever since!
Joe: Competition was pretty much all that was on offer before Riverdance, so that's what I did growing up in Columbus, Ohio. Then I joined Riverdance at age 16 in 1996. I became male lead in 1998.
How is today's Riverdance different from past productions?
Joe: It's been pretty consistent in the time that I've been with the show. There's the same energy and excitement when you're out there. It is the same show that people love. Obviously the numbers evolve and the costumes change. And I think that new people bring new energy to the show.
What's your favourite number in the show?
Maria: My favourite is the first female lead number – 'Countess Cathleen'. It's got great music and choreography. But I also like the fact that it has a strong female presence, which helps to balance the very strong male presence in Riverdance. I also like 'Heartland'. It is a very high energy piece towards the end of the show.
Joe: My favourite is 'Trading Taps'. It's like a dance off with tap dancers. There is a lot of interaction with the audience and you can really see the audience getting in to it.
What are the best and worst things about touring?
Maria: Well, you get to see the world. I probably never would have been to Japan if I hadn't gone with Riverdance. There is such a variety of people to meet and you make great friends. But it is hard on your body! That's why we have a masseuse and a physiotherapist with us when we tour. You have to think about looking after yourself and eating well.
Joe: The best thing about touring is getting paid to do your hobby! But the worst is all the early starts.
What will your fondest memory of Riverdance be?
Joe: That's probably the toughest question so far, because I have so many happy memories.
Maria: I do have one special memory in particular, which is performing in front of my family in Dublin in the summer of 2008. I felt so much pride. My parents and family are the people who supported me through so much to get to that moment.
Joe: That's a big moment! In fact, I think my fondest memory is of dancing the male lead in front of my family when Riverdance toured Columbus, Ohio.
What will you do after Riverdance?
Maria: I have a science degree to fall back on, but I am studying my TCRG and I would love to teach Irish Dancing. It depends how things work out but I could qualify this year.
Joe: I would like to teach dancing as well, but I would need to train for that. Maybe I'll go back to school. I haven't decided yet.
Maria: I think it is important to finish your education – it gives you another option.
Joe: Well, I certainly agree with that – but it's also important to follow your dreams!