Riverdance, Live at the Marquee Cork: 11 -14 June
January 20, 2015
Due to demand extra show added
Saturday 13 June – 2.30pm
Tickets for this extra show go on sale this Friday 23 January at 9am.
Six times World Champion John Lonergan was back in the city where he grew up today to announce, due to demand, an extra performance of Riverdance Live at the Marquee this June. The dates for Riverdance at the Marquee were announced late last year but demand for tickets has meant that a matinee on Saturday 13 June at 2.30pm will be added. Tickets for this extra date will go on sale Friday 23 January at 9am through Ticketmaster and usual outlets.
John Lonergan from Cork will be among the line up when Riverdance bursts onto the stage at the Marquee. John grew up in Cork City and started dancing at the age of 6 after taking classes each Friday in Primary School. He went on to join the 'Eleanor O' Brien School of Irish Dancing' then the 'Sheila Hayes School, & finally the 'Kiely-Walsh Academy' where he is still a pupil to date. Throughout his dancing career, he has travelled all over Ireland, England, Scotland, Wales & even the US, to take part in competitions. His competitive career is extremely successful seeing him being crowned 'North American Champion', Irish National Champion', 'All Scotland Champion' twice, 'Munster Champion' 10 times, 'All Ireland Champion' 5 times, & finally 'World Champion' 6 times. He has also won 4 All Ireland & World Gold Medals in 8-hand Céilí competitions. John toured with 'Magic of the Dance' throughout Germany, Holland and Austria before joining Riverdance.
"It is a dream come true to be performing in Cork. Because Riverdance performs in Dublin every summer, it was one of those things I assumed would never happen, so to hear I can now perform for my family and friends in my hometown, is quite special. There is no doubt it'll be an extreme highlight of my dance career and a memory I'll treasure for the rest of my life." John said today.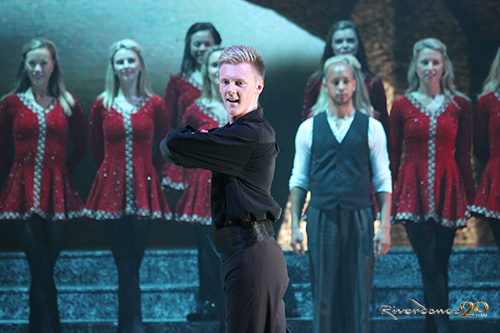 Of all the performances to emerge from Ireland- in rock music theatre and film – nothing has carried the energy, the sensuality and the spectacle of Riverdance, composed by Bill Whelan, produced by Moya Doherty and directed by John McColgan. 20 years ago on 30 April 1994,  Riverdance was first performed as the interval act in the Eurovision Song Contest in Dublin before being developed into a full length stage show. With its fusion of Irish and International music and dance, the show broke all box office records during its world première runs in Dublin and London and has continued to set new records world-wide ever since in theatres throughout North America, Australia, Asia, Europe, South Africa and South America.
Since Riverdance began performances in Dublin 1995, the show has…
Played over 11,000 performances
Been seen live by 25 million people in over 465 venues worldwide, throughout 46 countries across 6 continents
Travelled 700,000 miles (or to the moon and back and back again!)
Played to a global television audience of 3 billion people
Sold over 3 million copies of the Grammy Award-winning CD
Sold 10 million Riverdance videos & DVDs
Riverdance
'…the original…The Best' –  The Irish Times
'Dance does not often get so good'  –  The Guardian
'A phenomenon of historic proportions' – The Washington Post
'The sort of spectacle and experience that comes once in a lifetime' – The Hollywood Reporter
Tickets: €39, €44, €55
Booking: www.ticketmaster.ie    Ticketmaster Outlets Nationwide
24hr Credit Card Bookings:  0818 719300 (ROI)        24hr Credit Card Bookings:  0844 277 4455 (NI)
FOR MORE CONCERT INFORMATION CHECK www.aikenpromotions.com