From the biting cold of Hohhot, to snow-covered Yantai and the sandy beaches of Tsingdao
January 22, 2013
Nicole McKeever, Irish Dance Troupe, China Tour
We have really been travelling far and wide since my last blog and I was extremely excited to experience Hohhot in Inner Mongolia. Preferably I would have ventured out more during my time there, but the cold air was intense, and I along with many troupe members found ourselves fighting off the flu!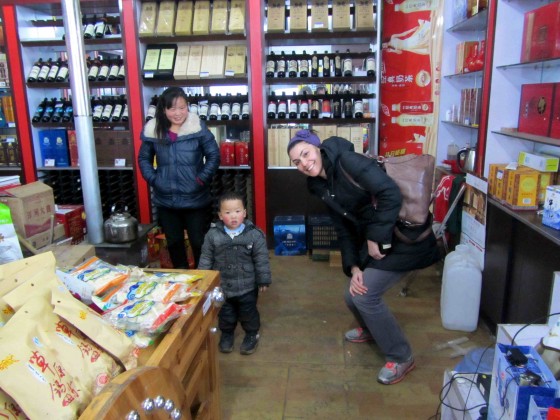 Across from our hotel was a small shop run by a very friendly family. Their little boy was so adorable I had to take a picture to remember him by.  Here I am awkwardly bending down to pose with the cute rosy, cheeked toddler.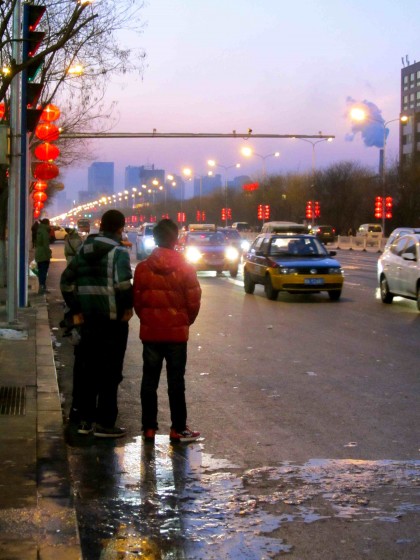 The second image from Hohhot was taken on a walk near our venue.  Pedestrians wait for the opportunity to cross an icy street as a busy line of traffic passes by. The vibrant reds set against the lavender sky at dusk really make this a striking image.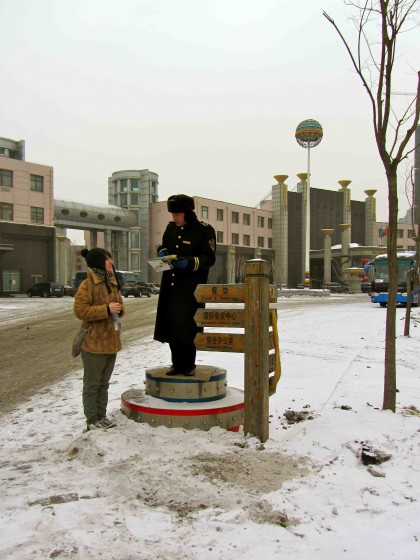 Next we move to Yantai. In an effort to combat what I would describe as "Cabin Fever", myself and a few other company members decided to go for a walk venturing out into our snowy and unfamiliar surroundings. One of the members of our wardrobe department, Iseult, asked for directions from a guard outside our hotel. The bizarre design of the hotel in the background coupled with the interaction between Iseult and the guard make this an interesting picture.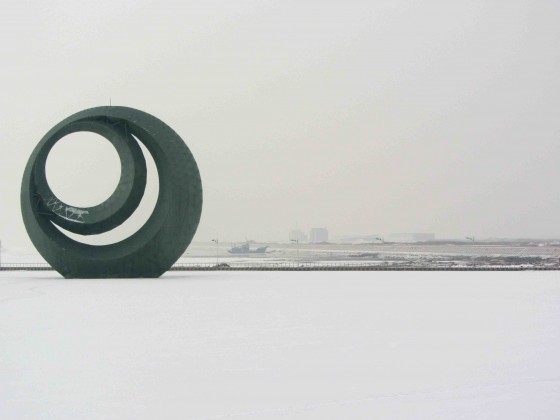 On our walk that day in Yantai we came across a frozen, footprint covered river. Popping out of the white landscape was an enormous spherical sculpture. I zoomed in from afar to capture this image. In the foggy distance you can see ships and buildings out in the horizon.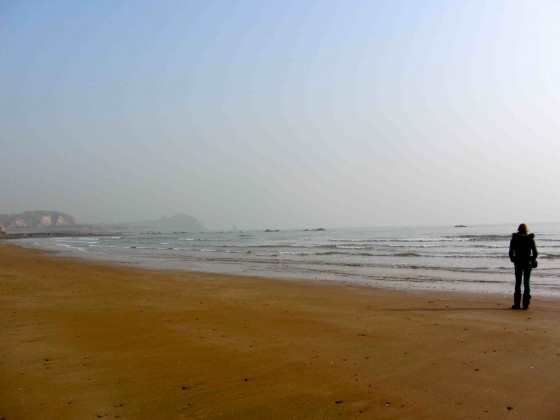 From Yantai I take you to the city of Qingdao, the home of Tsingdao beer. A stones throw from our hotel was a beautiful beach that my friend Nicola Dempsey and I wandered down to.  Here we have an image of Nicola standing in contemplation of the expansive landscape. In the distance a rocky Cliffside is scarcely visible through the hazy sky.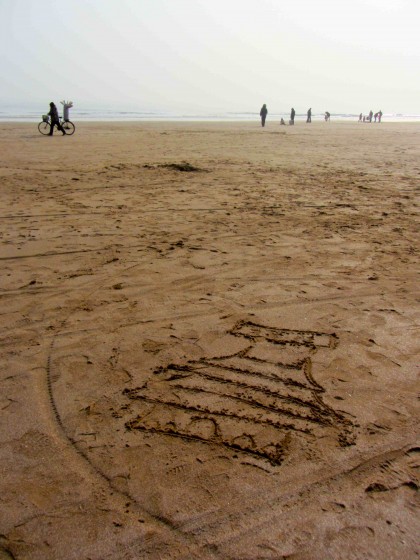 As we walked further down the beach we noticed people had drawn things in the sand.  There was the occasional heart with names in Chinese script and then eventually we stumbled upon this curious drawing of a temple. Families with children are scattered in the foreground along with a lady pushing her bike full of snacks that she was trying to sell.
From the biting cold of Hohhot, to the snow-covered streets of Yantai and the extensive sandy beaches of Tsingdao I have enjoyed capturing images from all of these cities.