More from Beijing
January 16, 2013
Fiona McCabe, Irish Dance Troupe, China Tour
Distracted by Inner Mongolian sub zero temperatures, flights galore and simply trying to stay warm in our hotels, I have been somewhat slacking on my blogging and forgive me, but I am slipping back a fortnight and going to tell some tales of our adventure in Beijing.
Leaving Maanshan was not as easy as we had hoped. The tiny Taibai Street (scattered with hundreds of locals on motorbikes and foot) made it seem virtually impossible to get on the highway to the train station. Let's just say Chinese bus drivers are particularly prone to honking their horns. Don't bank on catching forty winks on a Chinese bus! Enough said.
After having arrived at the train station we were eventually informed our train was under a 3 hour delay due to extreme weather. Time to get comfortable at the train station. Spirits began to drip. Tapping into our childhood days of having a McDonalds as a mere 'treat' still didn't take the edge off it. Hours later, we all piled into the train and to our surprise we landed ourselves in first class- thank you very much! The happy meter began to climb.
What should have taken a swift three hours slowly became four, five, six and wait for it…seven. Happy meter plummets. We all decided we were going nowhere anytime soon and decided to giver in to mother nature, cosy up and get comfortable. Padraic Moyles and I had plenty time to catch up on season two Homeland. Maeve Fearon sitting in front of me watched back to back episodes of comedy and James Keating spent time editing many of his own short movies. Others read, listened to music, turned one cabin into a Santa's grotto with fairy lights and others kept a lower key and simply slept.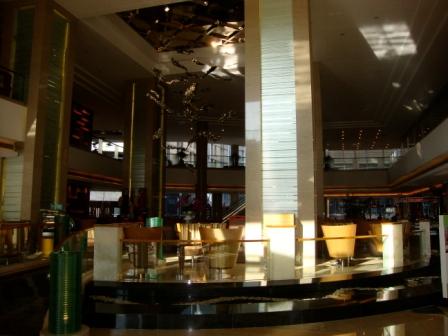 Three o' clock in the morning we pull up to the long awaited hotel. A Four Points Sheraton; our home for the next few days. Two big king size bed- yes please. Plenty of gadgets, switches and fun stuff to poke through but my roommate, Nicole McKeever and I are are simply too exhausted to uncover. I dive into my bed and allow myself to be consumed by the layers of crispy clean sheets. Tomorrow is another day.
The following morning brought uncertainty as to whether the show would load in on time due to the sever weather and out trucks not being able to make it through on time. We sat tight but didn't let it spoil our first day's adventure in Beijing. Jason O' Neill, Lauren Smyth, and Nicole McKeever braved the Beijing traffic and biting wind and headed to The Forbidden City for some culture shock. Having already been to The Forbidden City on my last Riverdance tour, I made my way to The Drum and Bell Tower in Gulou Dongdajie. Fascinating sights and a must do for travelers or back packers heading to Beijing. The Drum Tower was a marker for the old Mongol Capital. During the Ming reign, the drums were used to keep time of day. Although the Bell Tower was destroyed by a fire, it now stands a proud 33 meters tall. As recent as 1924 the bronze bell could be heard to as far a radius as 20 kilometers.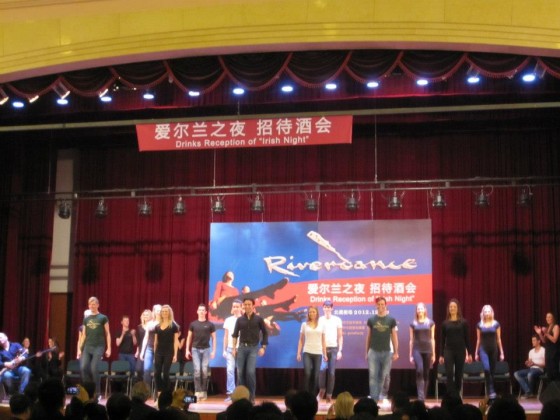 Even though Riverdance's opening night didn't go to plan in the BEC (Beijing Entertainment Centre), day one finished with a rendition of Riverdance at and Irish Night's Reception hosted by the Irish Minister for the Arts to name but a few. Ties between the Irish and Chinese were hopefully strengthened to fisherman's knot standards after an epic night of entertainment with such sparse resources. Despite no dance shoes or costumes the Riverdance band played a heart warming rendition of The American Wake, Riverdance and Macedonia Morning. Who ever said we need dance shoes to kick our legs up high? And that's just what we did!