Happy New Year to all of you, all the way from China!
January 14, 2013
Maeve Fearon, Irish Dance Troupe, China Tour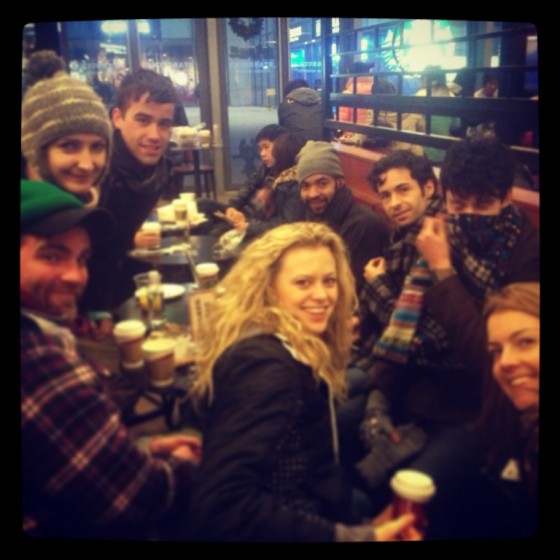 With Christmas over, we boarded our first train of the tour to Manshaan, and with a quick, uneventful stay here, we were looking forward to our upcoming trip to Beijing. I was particularly excited about being on my first ever 'bullet train'. When we arrived to the train station, we were informed that there was a two and a half hour delay due to bad weather conditions (it was snowing!). So, we watched movies, enjoyed a coffee in Starbucks and tried to take our mind off the wait and the extremely cold train station…brrrr!But we took off a short time later and unfortunately the 'bullet' journey was not to be. As the train pulled up, we were overjoyed with our highly comfortable recliner seats and luckily, sockets for charging our computers. With the UGGs kicked off, and enjoying "It's a wonderful life" on my MACBook, we halted on the tracks for at least an hour and we knew something was up. Considering they were only serving full chickens, duck tongues and other rarities, we knew we were in for a long, painful journey. The crew also became worried as they were slowly getting bits of information about problems with the crew trucks stuck on the motorway to Beijing which was had to close. This was even more worrying, as our first show in Beijing was to be performed in front of representatives from the IDA, the Irish ambassador, Declan Kelleher, Minister for Arts and Culture, Jimmy Deenihan and over 200 lawyers from A&L Goodbody at an event for members of the cultural and business community. Eight hours later (approx 3am) we arrived at the Sheraton Four Star Hotel, Beijing. Our hungry, tired souls retreated to bed and we were informed the first show had been cancelled. Julian Erskine, who was visiting for the event and our first show had no doubt, a difficult day ahead!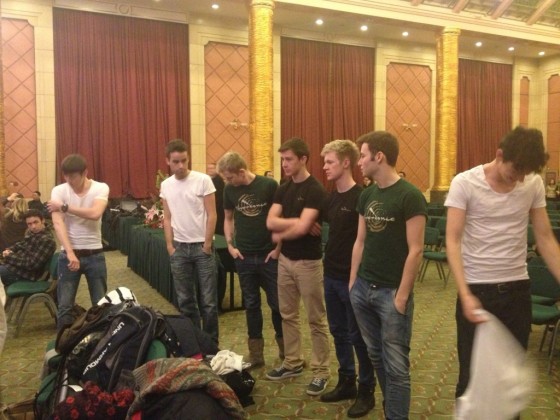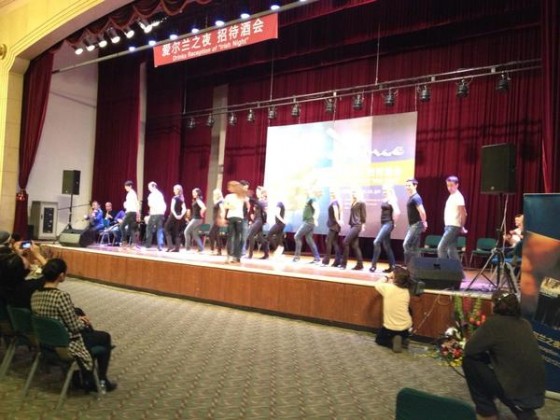 The following day we were contacted individually and everything was arranged in quick fashion for what would prove to be a successful alternative 'showcase' if you like at our venue, the Beijing Exhibition Centre. We were called in early for rehearsals and just a few hours later, we were on stage with no costumes, dancing shoes or proper sound system…just sheer, raw talent and a determination to provide entertainment to the best of our ability.  We were also treated to the fantastic blind Chinese band who belted out tunes such as "Reel Around The Sun" from the show and it was a pleasure for all of us to witness this and songs from the talented Emma Warren and Ben Mapp.  We even dragged audience members up for a ceili and taught "The Walls of Limerick", a traditional Irish team dance. We finished the night with a spot of Jameson and  Guinness.
Minister, Jimmy Deenihan from Co.Kerry joined us on the bus to say "You were all fantastic tonight and really did yourselves and Ireland proud. You certainly helped us further our efforts to create and maintain links with China".

Next Day was New Year's Eve so I decided to just relax, making the most of our amazing free breakfast at the Sheraton and using their superior gym and swimming pool/jacuzzi. We also had to prepare for our big upcoming New Year's Eve party at the Hyatt Hotel in town. We were very lucky to have just a matinee during the day, so being able to have a nice meal and take our time getting ready was a treat. Within a few hours, some twenty six of us were" glamed up" and enjoying our VIP experience with an amazing band and some delicious Moet&Chandon champagne!10,9,8…the countdown was on and we toasted to what will undoubtedly be another exciting few years with Riverdance.
With an extra show on New Years Day to compensate for the cancelled show, we were in our beds early that night and headed off on the second day of January for some sightseeing. Tiananmen Square, The Great Hall of the People, The Forbidden City…now this is what you call sightseeing!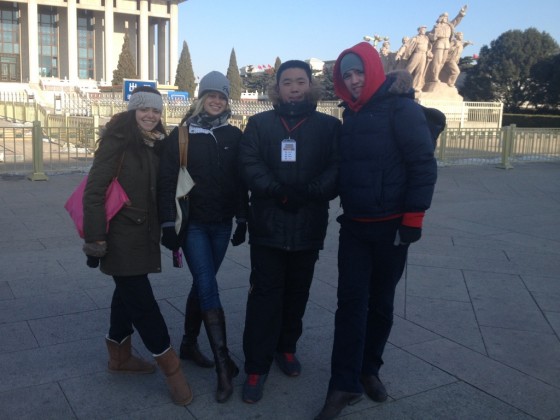 We also met a lovely volunteer who allowed us to see inside the Zhengyangmen Gate, a barbican which guarded the direct entry into the imperial city, but more recently a cultural hub in Beijing. It turned out he had particularly good English and upon finding out we were from Ireland, he sang out the tune to Riverdance and placing his hands on his hips, did a full rendition of our dancing routine, bizzare!
We finished our day at the "Silk Markets" (please don't judge me, it's just too difficult to resist these places) and with a few bits and bobs collected, we returned to the Exhibition Centre to finish our last show in Beijing.
So, it's a Happy New Year to all of you all the way from China!!