Interview with James Greenan
January 16, 2013
James Greenan one of the male leads with Riverdance, who performed in China as part of the Riverdance Grand Theatre Tour.
James was born in London but moved with his family to Co Cavan at the age of 11.
A keen footballer, he took some persuading to take up dancing, but has never looked back since.
He's gone on to win several titles, in both solo and céilí competitions including the World Championships, All-Irelands, Great Britains, and Northern American Championships.
In the middle of winning dancing competitions he has also managed to start studying architecture.
---
How did you first become involved in Irish dancing?
I first became involved in Irish Dancing through my sisters. I was born in London, England and lived there till my parents decided to move back to Ireland when I was 11.
I had no interest in Irish dancing at a young age, football was my passion. Growing up in South London there is a lot of inspiration for any young lad to follow in the sport so naturally I followed this path.
But my sisters all danced, and one year the school (the Loughlan academy) needed a boy for a dance drama which is a competition held at every worlds were schools tell a story through dance. So I was roped into doing that at the age of 10.
A year later we moved to Cootehill, Co Cavan and I joined the Mona Ni Rodaigh school in Dundalk an the rest is history!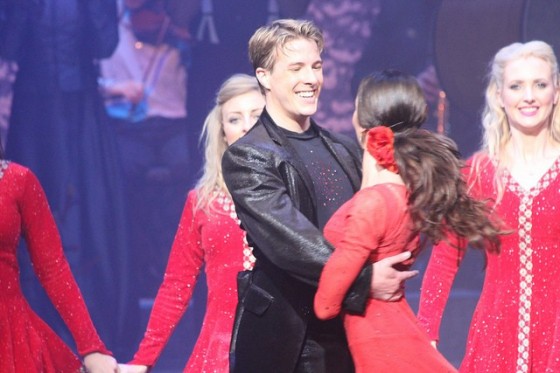 What age were you when Riverdance first came out? Were you always a fan?
I was 4 years old when Riverdance first performed on the Eurovision Song Contest. I think I was too young to know what it was, my sisters all went to see the show when we were in London but to be honest I was more interested in football at that age. It wasn't until I moved to Ireland that I developed a true passion for Irish dance and fell in love with Riverdance.
Are you looking forward to the tour China?
I am looking forward to China very much. I love experiencing new cultures and meeting new people, especially when they live in countries so diverse to ours. I'm sure there will be many new challenges for a lot of us, including the language barrier, so it will be fun to learn a bit of Chinese and converse with the locals.
You've a hectic schedule, but what will you be hoping to do on any downtime you get?
We do have a pretty hectic schedule ahead of us. I always try and be productive on a tour – whether is going to the gym or doing some sight seeing, but on the China tour I really want to learn the guitar again. I used to play as a kid but have recently picked it up again so I will try and buy one when I get out there and see if I can learn a few songs for the sessions when I come back home.
What's your favourite place in the world that you've visited on any of your tours?
I have some very memorable places that I have been to throughout the years but for all different reasons. I really like Germany as it is such an efficient country and everything runs like clockwork.
Before Christmas last year I was lucky enough to go to Hawaii for the first time and that was incredible. It was the first time I had been to an exotic so naturally the beauty of the island took my breath away.
But my favourite place I have been to is definitely Buenos Aires. I was there this past August on Riverdance's first South American tour. I fell in love with the culture of the city. The history, the music, the Tango, and peoples passion for it is something that really appeals to me. I hope we go back there again with the show but if not I will definitely go back for a holiday.