Christmas celebrations and secret santa joins the tour.
January 6, 2013
Maeve Fearon, Irish Dance Troupe, China Tour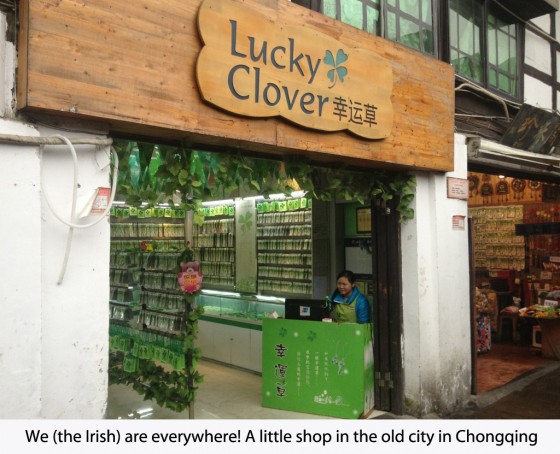 It's week three of Moy's China Tour and we are now well accustomed to China in all of its glory. From Guangzhou, we moved to Dongguan and discovered a familiar supermarket across from our hotel – Spar! It's offerings somewhat different from home (to say the least!) but it was nice to see a home brand nonetheless. With many of us suffering from jet-lag, we spent most of our time resting and taking in the sights.
China is most certainly diverse, the disparity is incredible. In Donguan, we had huge shopping outlets and universal fast food chains on our doorstep and within walking distance, we witnessed the poorer suburbs. With tiny eateries and humble abodes, there was an immediate buzz from locals starring at us, laughing and in awe of our whiter than white skin. We even had a few encounters with a few who were trying to converse in Chinese for as long as possible. Obviously this didn't last long and of course was of great comedic value!
________________________________________________________
Click on any photo to view photo slide show
Next stop was Shenzhen, a city which I remembered for my first ever time gracing the stage with Riverdance…ah the memories! At the time, we discovered upon leaving Shenzhen that it was home to one of the most renowned shopping destinations in the world, typical. So, of course this would not be a wasted opportunity. Alarm clocks were set earlier than usual and there was money set aside in preparation for "Luohu's Commercial City" set in the heart of Shenzhens's main railway station.
As soon as we arrive, we are followed by a man who is adamant that we need "Louis Vuitton" "Gucci" "Prada" in our lives. As we enter, I am reminded of an article I read earlier this year in USA. The author spoke about the psychological effects of shopping malls in America, whereby upon entering you lose all concept of time and value of money.This place has everything you could imagine and more. The latest designer (or knockoffs – whichever description you prefer!) totes and handbags, sunglasses, jewellery, clothes and shoe boutiques. The phrase "enter at your own risk" comes to mind. A few hours later, I am totting up all the money I have spent in the space of a few short hours. It's not a lot but certainly more than I intended but with all of my wanted items ticked off the list, I am a happy customer. Afterwards, we paid a quick visit to the Shangri La Hotel for lunch and boy was it worth it. Fabulous surroundings, melt-in-your-mouth food and a lovely way to round off a great few days in Shenzhen.
We had a lengthy travel day to our next stop, Yichun and I must admit, this place was a little bizarre. It was quite eerie with very little happening, with lots of man-made parks and skyscrapers which seemed to be of no purpose. We also had a lot of difficulty trying to get decent food. But luckily we came across a little supermarket near our hotel, selling the Chinese equivalent to 'Pot Noodle' and we were quickly 'fed and watered'. The shop owners were so delighted to see us visiting their shop that they bought us miniature Santa's, kick-starting what turned out to be a truly lovely Christmas in the company of some great people. We also paid a quick visit to Chongqing, where we experienced the wonderful old city and wandered its cobbled streets filled with traditional Chinese stalls, historic temples and traditional homes. We made friends with the owner of "Coffee Palace" (one of the most intriguing coffee outlets I've ever been to!) who shuffled us down a little alley way and seated us on plastic school seats where we drank green tea from plastic cups and had dinner, an amazing rice dish for just £1.50. We finished our day, dancing at the Chongqing Grand Theatre, one of the most architecturally impressive theatres I have ever seen!
When we are touring at Christmas, we organise what's known as "Secret Santa". Everyone picks out a person at random and they shower them with little gifts in the lead up to Christmas and clues as to who they could be. The efforts from cast and crew were fantastic, with many going to great lengths to surprise and reward their pick. On one occasion, dance captain Niamh O'Connor was made to wear a grey wig and some interesting underwear to warm-up! James Keating had to speak Chinese for a day, Caterina Coyne dressed as an Indian lady and presented our 'Christmas Extravaganza' in an Indian accent with 'Britney Spears' hits performed on-stage by Maeve Croke and an appearance by our very own 'One Direction' boys. Me and roommate, Emma Warren took to decorating our room in the fabulous Dorsett Regency in Wuhan with tinsel, Santa hats and flashing Christmas lights. We watched Christmas movies in our pyjamas (carted all the way from Ireland) and enjoyed some nice red wine, belting out tunes from Bing Crosby and Michael Buble.
Our Christmas Night party was spectacular. With a scrumptious feast of turkey and ham and not one, but three different desserts! We revealed our 'Secret Santa' identities. I was lucky enough to have the ever stylish Stephen Brennan as mine, and was presented with my most wanted item – an Alexander McQueen skull clutch, amazing! Since we are eight hours ahead, we waited until later in the night and many of us retreated to our rooms to make calls to home via Skype. It is difficult particularly at Christmas, being away from home. But with Christmas spirit in bucket loads amongst our cast and crew, we had such a lovely Christmas here in China.