New experiences – a blog through photography!
January 4, 2013
Nicole McKeever,  Irish Dance Troupe, China Tour
Since my last blog, the Moy Company has been travelling intensely through the Christmas season. We have encountered some culturally engaging moments that I have hopefully captured for you visually.
Firstly I will delve into my experience at Ciqikou in the very large city of Chongqing. This was one of my favorite days of the tour so far. Walking down alleyways and streets with vendors, surrounded by a preserved historical setting. I felt like I was on a movie set depicting Ancient China.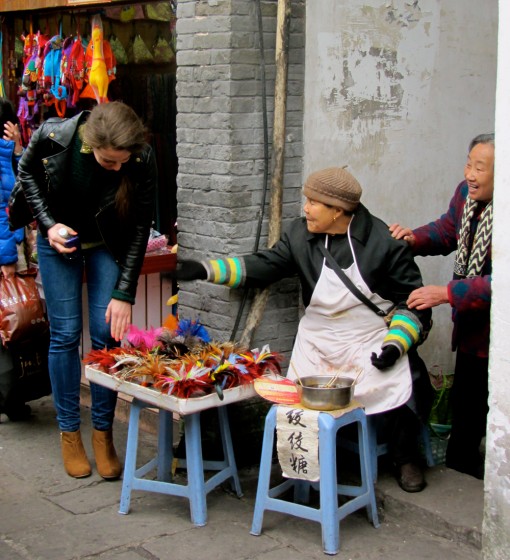 The first photo I share with you is an encounter that my friend Lauren Smyth had with some local women selling their handmade feathered trinkets. The main thing that strikes me in this photo is how animated the two elderly ladies are while Lauren intensely studies what they are selling. Exactly what those feathered objects were we never did discover.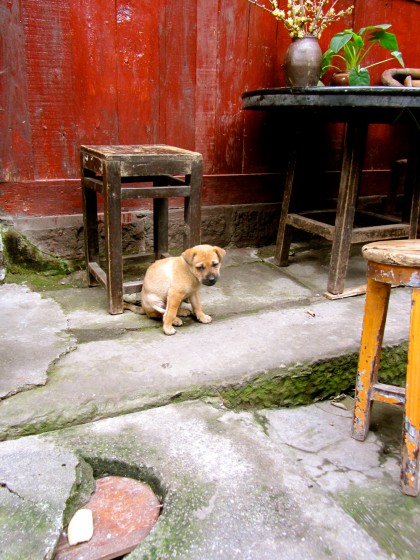 Secondly we have an image of the most adorable puppy I saw ambling around the streets of Ciqikou. I struggled to get this cute little animal to pose, and its reluctant expression is clearly visible in the photo. The red faded wall contrasts with green plant and mossy stones while a number of interesting textures within the background enhance the setting of this image. However, at the end of the day you just can't avoid the real reason I love this photo, the cute factor.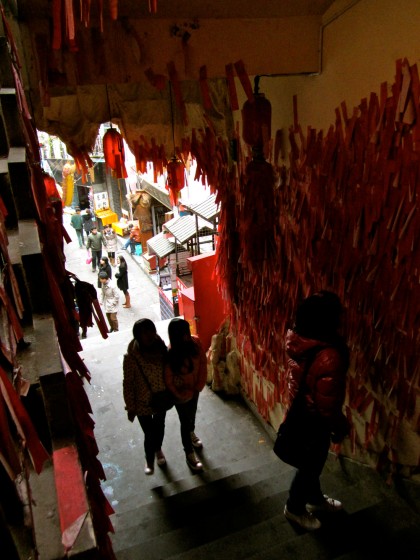 The third image is a stairwell in the same historical city. Hundreds of bright red paper strips with writing covered the walls like feathers on a bird. The main subjects of the photo are in shadow while the street behind them is lit creating a striking environment. I have to assume these pieces of paper had a deeper meaning, maybe people's wishes or prayers.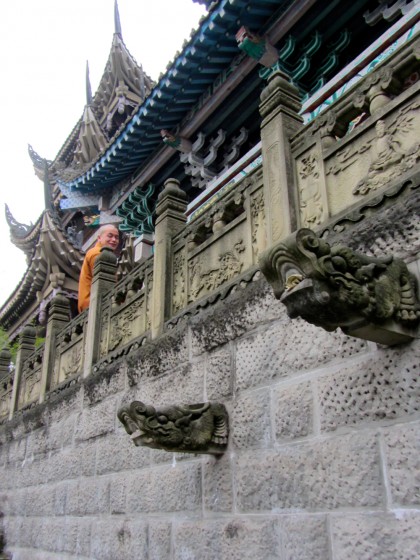 My fourth image, and the last one from Ciqikou that I will share with you was captured at the historical temple that we climbed up through the city streets to reach. It was a beautifully decorated and peaceful environment to encounter. After climbing a steep hill of stairs I peered up to see this man sitting amidst the decorative layers of the temple walls and roof.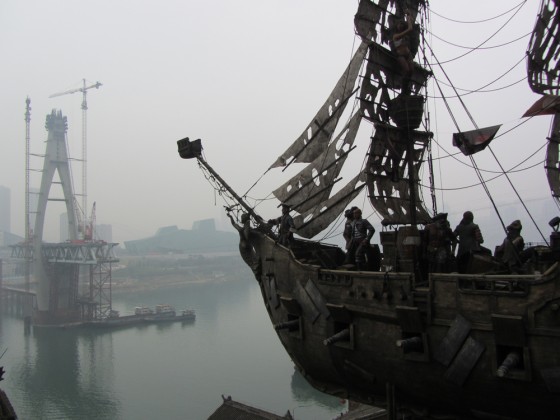 My favorite photo is last. I went to an area of Chongqing that had shops and restaurants all up on a hillside overlooking the river and the city. This puzzling and curious image is of a pirate ship high up in the sky jutting out into the fog with the modern city behind it. The impressive building in the background was actually the theater we performed at that week which gives the photo even more personal significance.
As we continue our trek through China visiting Beijing and even Inner Mongolia I hope to share with some even more stunning pictures! Until next time!
Nicole
Christmas celebrations and secret santa joins the tour.
>