Farewell New Zealand – we're homeward bound
June 14, 2012
Aisling McVeigh,  Irish Dance Troupe,  Moy Company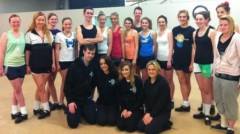 Our final stop of the tour took us to Christchurch, New Zealand's second-largest city and gateway to the South Island. With 3 days off, many of the cast & crew hired cars as soon as we touched down, departing in various directions to explore the New Zealand country side – Hanmer Springs, Kairkoura and Queenstown were amongst the main ports of call.
Those of us, who remained to explore Christchurch, paid a surprise visit to a local dance studio on Monday evening. Dancers at the O'Neill School of Irish Dancing gave us a very warm welcome. They were full of questions about life on tour and danced some jigs and hornpipes for us while we were there.
On Tuesday, we had a lovely meal at No. 4 restaurant to celebrate the upcoming birthday of Company Manager, Laurie Small.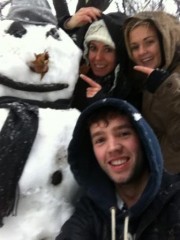 Snow in June……..!!
As predicted by the weather folk, we woke up to a snow capped Christchurch on Wednesday morning. Despite the sudden drop in temperature outside, it was stunning to look out at from the warmth of our hotel and resembled a scene from a Christmas movie. With the seasons reversed from home, it was hard to believe that it was June! Those brave enough to bare the cold brought flamenco dancer, Rocio Montoya to a local park to build her first snowman ever…!!.

Thursday called for opening night and a meet & greet with one of our oldest fans – 93 year old Roy Green, who was accompanied by his 3 daughters. Roy has been a fan of the show since it first took the world by storm and still watches a very old video he taped off the TV many moons ago (despite the terrible and distorted image it holds now, as his daughters informed us). It was a pleasure to meet with him and his family. He was full of charisma, cracking jokes with dancers Lauren Smyth & Shona Cobbe backstage.
Shuttle buses ferried us all to Cargo Bar after the show for an end of tour bash. Pizza's, bubbly and an open fire made for an enjoyable evening for all in the Moy.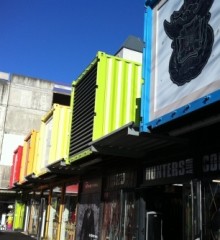 Cashel Mall built out of shipping containers is a new temporary city mall. Buildings damaged in the earthquake have been demolished and replaced with cargo containers. The precinct houses more than 20 stores and coffee shops, representing a new beginning for the quake-ravaged CBD.
I took a stroll down to the funky Mall on Saturday morning with some other dancers before the matinee, to have a look around and pick up some gifts to bring home.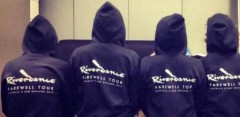 Homeward Bound
A four show weekend at the CBS Arena, marked the end of a 6 week farewell tour across Australia and New Zealand. The end of a tour always brings a mix of emotions. There is the exciting anticipation of getting home to see friends and family combined with an element of sadness when bidding farewell to fellow cast members, heading home in different directions. Working, travelling and socialising together pulls a cast & crew quite close and it always takes a few days to readjust when you finish a tour and are flying around solo once again back home.
It has been fantastic tour, one of my favourites to date. Thanks to all who came to see us, we hope to see you again sometime, somewhere soon…
Until then,
Aisling x