Busch Gardens and beyond
June 14, 2012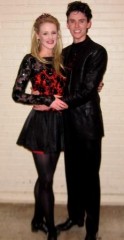 Fiona McCabe, Irish Dance Troupe, Shannon Company
Saturday night in downtown Raleigh brought celebrations for the Shannon Co. and in particular, our saxophonist, Dave McGauran. Members of the band organised a night for the stag himself before he ties the knot in Ireland over the summer. Pizzas, streamers and a 'lap' dance from two of our own (Patrick Barnett and Shane Cummins) proved a successful night. Custom-made t-shirts by all the guys guaranteed endless laughs and sparked off many the joke!
It was bittersweet for our company however as we bid farewell to one of our crew guys, lighting engineer, Nick Partin. We wish him all the best with his new show 'Memphis' and we since welcome Adam Lansing to our Riverdance team.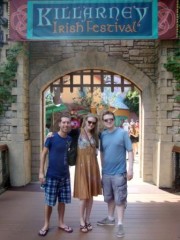 Newport News brought a fabulous day off in sunny Virginia. Being so close to Williamsburg, I snapped up the opportunity to visit a dear friend and former troupe dancer in the show, Ryan McCarthy. We spent some quality time together in old Colonial Williamsburg, followed by lunch in Aroma's coffee shop. We decided to have an early night as we planned the next afternoon at Busch Gardens: This required an early start! We were accompanied by tapper Jason E. Bernard and musician Dave McGauran. What a splendid afternoon we had riding heart-pounding, jaw-dropping roller coasters such as 'Griffen' and 'Alpengeist'. We even managed to get soaked on one of the water rides! We made sure to save time for delicious waffle cones and ice-cream to cool off in the hot Virginia sun!
Since there is an Irish dance spectacle on offer in Busch Gardens, several dancers who once performed with Riverdance have joined one of the theme park's show; one in particular being 'Celtic Fyre'. Former Riverdance troupe dancers Scott Doherty, Meghan Lucey , Christina Dolzall, Rachel Harris and Ryan McCarthy all came to sit and watch our performance at the Ferguson Centre for the Arts in Newport News. Meghan even graced us with her presence onstage and performed with us no less for two shows in both Newport News and Charlottesville, VA. Megan was filling the shoes (literally) of Maggie Darlington who was on rest after a minor ankle injury.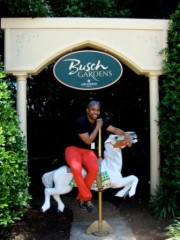 We kicked off the month of June in the exciting city of Baltimore, the largest city in the state of Baltimore. Unfortunately the weather was not on our side as warnings of a small tornado was brought to our attention. However wet and stormy outside, not even the weatherman could break the welcoming atmosphere inside the Lyric Opera House. The Baltimore audience was definitely no reflection on the weather! We were all happy to retire to the fabulous Kimpton Hotel Group- Hotel Monaco. Spoilt by spacious rooms and luxurious bedding I was never happier to see the inside of my 'leaba'! (bed).
I snapped up a little free time between shows on Saturday and basked in the sunshine by the harbor at Fells Point. Saying I feasted on some local seafood would be an understatement!  Dining al fresco on mahi mahi, clam chowder and mussels; well let's just say I had myself convinced I was already on holiday! Fells Point is a must for those of you have yet to visit…….