PREVIEW: Wolf Trap ready for a last 'Dance'
June 15, 2012
PREVIEW: Wolf Trap ready for a last 'Dance'
Washington Post – Friday, June 15, 2012
By Lisa Traiger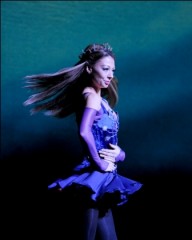 They conquered North America in hard-soled shoes, short black skirts or slim black pants, this troupe of Irish dancers and musicians. Sweeping the continent by storm with jigs, reels and hornpipes, Riverdance grew into a millions-served phenomenon, resuscitating an interest in Irish culture and big, flashy arena-style shows showcasing dance and music. In its wake, it has left millions dazzled by heartbeat-quickening, Irish step-dance rhythms performed with the precision of a military drill team.
It started as a bit of a lark: In 1994, the producers of Eurovision Song Contest needed a seven-minute filler to bide time while judges deliberated. A composer, choreographer and producer came up with Riverdance, a music-and-dance number. It combined the pinpoint accuracy of a Radio City Music Hall Rockettes line with the heartfelt ballads and spritely jigs of Irish folk music, featuring Bill Whelan's compositions.
This weekend, the massive North American operation of Riverdance — 60 dancers, singers, musicians and crew — will sing and dance for the last time on these shores. The Dublin-based production company is closing down its North American tour with five performances at Wolf Trap, one of its earliest and most consistent venues.
"We just thought this was a good time to close down here," said Julien Erskine, who, as the show's executive producer, is a bit like a general, his office wall plastered with maps filled in with color-coded dots denoting the cities, countries and continents where Riverdance has stepped.
"I think it's the right call at the right time," he added. "Nearly 12 million people in over 400 cities have come to see Riverdance in North America. We're very, very happy with that and we don't want to spoil it by outstaying our welcome."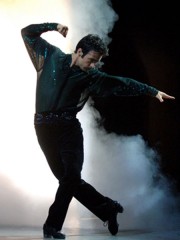 Padraic Moyles (pronounced Poor-ick Moy-ills) has Dublin and Bronx in his makeup — born in Ireland but schooled in the New York borough where his parents moved when he was a child. He grew up watching his mum and dad and their friends socializing on Friday nights in their living room with Irish set dances, which are similar to American square dances.
A Riverdance veteran, currently touring with the New Zealand and Australia cast, Moyles spent the majority of his career traveling and performing across North America, which he insists has the most effusive audiences in the world.
He remembers seeing the show in its first U.S. performances at Radio City Music Hall in New York in 1996. "I liked dance, but I didn't love it," Moyles said; at 16, he was taking Irish dance lessons because his parents wanted him to. "That night I saw Riverdance and it changed everything. I realized how cool it looked up there and I said to myself, 'I need to be a part of this.'?"
Hearing about an audition, Moyles and another dancing friend skipped class and drove to Boston to try out. A few weeks later, he came home from school to find his mother holding an envelope, wondering why Riverdance was writing to him. Moyles had been offered a position in the company. His mother hugged — and scolded — him. His parents agreed he could join the tour as soon as he finished high school.
Now 33, Moyles is married to one of the original dancers, Niamh O'Connor. He thinks he has performed at Wolf Trap at least a dozen times, and it remains among his favorite venues. "You walk out on the stage and see the people sitting on the hill and within the theater, with all the wood," Moyles said, "and it's always packed."
Riverdance has been a phenomenon for Wolf Trap, said Ann McKee, the venue's senior vice president. Over the years the company has performed 109 times, with 492,877 people attending the shows. Wolf Trap has grossed more than $23?million — not including this year — making Riverdance its all-time bestseller.
For McKee, that's a huge relief. When she booked the tour for its first two-week visit in the summer of 1997, she had never seen the show; all she had to go on was a video excerpt she caught on the nightly news. It was enough to convince her that Riverdance would be perfect at Wolf Trap.
"It was a mighty roll of the dice," she said, "but it proved to be an amazing collaboration."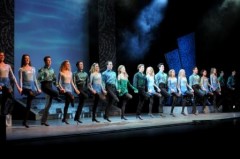 Asked whether Wolf Trap has anything special planned for this weekend's final North American run, McKee kept mum. Erskine will travel from Dublin to see the cast take its final bows on American soil and to bid farewell to Wolf Trap, a venue he names as one of his top five in the world.
"There's a great moment at Wolf Trap," he said, "when [the ushers] drop the ropes and the crowd comes pouring over the hill to get the best place on the lawn . . . coming over the top of the hill with a great sense of excitement."
Erskine won't rest on his laurels. Riverdance he said, has other nations, other continents to conquer. In the coming months and years, Riverdance will add India, China, South America and the Middle East to its territorial expansion.