New duo join wardrobe department
June 19, 2012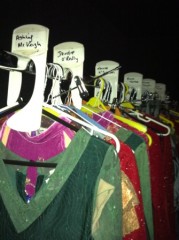 Aisling McVeigh,  Irish Dance Troupe,  Moy Company
Since Riverdance began performances in Dublin in 1995, over 12,000 costumes have been worn. Nestled in the heart of Dublins Capel Street, is a little den where all the costumes, designed by Emmy Award winner, Joan Bergin are housed.
Monica Ennis, head of wardrobe oversees the costume workshop in Dublin and is responsible for fitting all new cast members so that they look the part. The costumes are a vital part of the overall look of the show and the visual that has captivated over 22 million people across the globe to date.
The wardrobe department plays a key role on tour, maintaining the costumes and ensuring that all cast and band members are comfortable in what they are wearing for each performance.
Barbara McCarthy and Mary Claire Sheehan are the newest members to join the department. The duo was responsible for the entire operation on the recent Farewell Tour of Australia and New Zealand. Fascinated by their job and how one ends up working in a costume department, I spent many an interval sitting on a washing machine, watching them go about their business, chatting about their experiences.
Both Barbara & Mary studied Drama & Theatre Studies at Trinity College Dublin, specialising in costume design for their final year.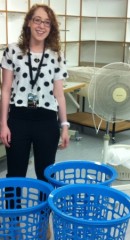 Since graduating in 2009, Barbara has worked on many Broadway and West End productions that have come to the Bord Gais Energy Theatre in Dublin.  Some of her favourites have been Grease, Hairspray, Peter Pan and White Christmas.  Having had a taste of touring life with Plaza Suite on a national tour of Ireland, she was delighted to have been offered a place on tour with Riverdance. Barbara spent a brief stint in North America with the Shannon Company before joining the Moy as Head of Wardrobe on the long road across Australia and New Zealand.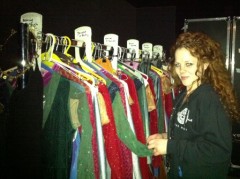 I accompanied Mary on a walk-through wardrobe as she prepared the costumes for a show in Christchurch, NZ. She told me all about her passion for the theatre and her experiences working at The Gate in Dublin on Little Woman, The Speckle People and Death of a Salesman to name but a few….
It is no easy task making sure every dancer and band members dress, shirt, belt or trousers are clean, intact and in the right place before each show. The precision, passion and attention to detail they apply to their work is phenomenal. I have seen them doing laps backstage, chasing the leads up and down with their water bottles and towels.  They are always at hand in the wings to, for any quick costume changes side stage, armed with a tool kit for any last minute hitches to a hem line or sleeve.
Barbara and Mary love what they do and are enjoying every minute of their new role with Riverdance. They are both really looking forward to overseeing wardrobe in their hometown of Dublin this summer, when the show opens June 26th at the Gaiety Theatre for a scheduled 10 week run.