Newly engaged Kelly and Rocio
June 19, 2012
Recently engaged Kelly Isaac, Tapper and Rocio Montoya, Flamenco , interviewed by  Aisling McVeigh 
When, where and how did you meet? Was it love at first sight?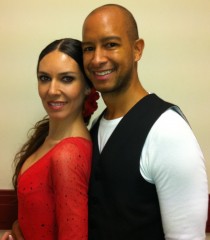 Kelly:  We first met in Japan 2005. It was my first full tour of Riverdance. Love at first sight? Sure, I thought she was very attractive, but didn't have the courage to try talking to her at the time.
Rocio:  That's right; it was in Japan, my first tour with the company and one of my favourites. Of course there was attraction in the first sight, but we didn't start our relationship until 2008 during the European tour.
Is it true Rocio that you couldn't speak any English? How did you communicate at the start?
Ay Dios mio!! Haha! Totaly true. When I started, all I knew was "hello, goodbye, and please can you help me?" (I used the last one a lot!) haha!
The beginning was a little bit difficult especially for communication. I was very fortunate to meet some wonderful company members that helped me and taught me with lots of patience. I thank all of them so much.  They have no idea how much they helped. Now, with my private tutor Kelly I learn more and more.
Kelly, you are from America and Rocio you are from Spain, where do you both spend your downtime between tours?
We try to even it out as much as possible. Fortunately, we've been able to do all our travelling together, which is really nice. At this point, I feel just as much at home in Spain as I do in America. I think Ro feels the same way.  We've got family in both places.
Where/ when did you get engaged?
Did you see the movie "The 5 Year Engagement?"  The whole first scene is pretty much how it went down.  I had the whole thing planned in my head how and where… with Rocio's family and everything… Things started falling apart, and it just wasn't gonna happen.  I ended up doing it in the car. Not the most romantic thing in the world, but it was funny to us… She said "Si Kelly!" and that's all that matters to me.
Did you ever think that joining Riverdance  would lead to finding love, getting married and a wedding?
When I first joined, I'd say no way.  After being with the company for a few years, you can easily see how it could happen.  I've met friends I know I'll have for life. Riverdance is like another family.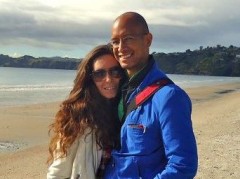 Any date or plans for the big day yet?
We're looking at June of next year in Granada.