Electric Burma Live in Dublin
June 11, 2012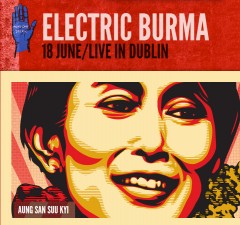 On June 18, Aung San Suu Kyi, Burmese opposition leader, will fly to Dublin where she will attend a concert in her honour.
The tribute concert, Electric Burma, will commence at 5 pm on June 18th, at the Bord Gais Energy Theatre. Actors, musicians and dancers will travel to Dublin from across the globe to celebrate this inspiring woman.
The high point of the concert will be the presentation of Amnesty International's highest accolade, the Ambassador of Conscience Award to Aung San Suu Kyi. The award was originally announced from the stage during a concert by U2 in Croke Park in July 2009.
The performance line-up for the event includes Bono, Damien Rice, Vanessa Redgrave, Bob Geldof, Riverdance, Angelique Kidjo, Yungchen Lhamo, Jack Gleeson, Sarah Nemtanu with more acts to follow.
The event is being organised by Bill Shipsey, founder of Art for Amnesty – Amnesty International's artist engagement programme. After the concert, Amnesty will host a public celebration outside the theatre at which it is expected that Ms Suu Kyi will make a brief address to the assembled crowd.
Colm O'Gorman, executive director of Amnesty's Ireland branch, said organisers wanted to create as many opportunities as possible for members of the public to experience the visit, including members of the Burmese community in Ireland and activists who had long championed her cause. "Aung San Suu Kyi's visit is a truly momentous occasion for everyone in Ireland, and throughout the world, who campaigned tirelessly for her release for more than twenty years," he said. "We are honoured to welcome her to Ireland for an event that will celebrate her freedom and her extraordinary life's work to secure freedom and human rights for her people."
Riverdance Producer Moya Doherty and Director John McColgan are truly honoured and delighted to be involved with the celebration concert for Ms Suu Kyi.
Opening the concert, Riverdance principal dancer Siobhán Mason will perform Thunderstorm with the male dance troupe, a first female performance of this number. Discussing her involvement with the event Siobhán said " I am excited and honoured to be performing at the Electric Burma concert. It is an enormous privilege to be involved in the celebration of the achievements of such an inspirational female leader"