Trendy Wellington, NZ
June 10, 2012
Aisling McVeigh, Irish Dance Troupe, Moy Company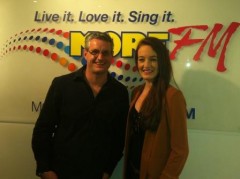 A short flight from Auckland, took us to our next stop on the North Island– trendy Wellington. Lead dancer, Lauren Smyth announced our arrival in town live "on air", with a radio interview at More FM.
A Cause for Celebrations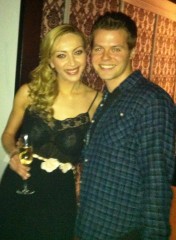 Opening night provided much cause for celebration. It was the first time Riverdance had ever performed in Wellington and fiddler Pat Mangan had also arranged a birthday party for his wife Natia, who had just landed in from New York to visit. Natia toured for many years as a Russian dancer with the show before turning her talents to new ventures in the US. The Apartment, a chic bar, hand-picked by Pat for the occasion played host to cake, candles and opening night celebrations.
Wellington Must-do's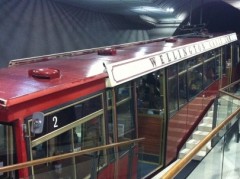 In between shows, the cast and crew visited some of the recommended must-do's around town. A scenic journey on the Wellington Cable Car offered amazing and expansive views of the city and surrounding bay. The short, steep ride up into the mountain, direct from downtown Lambton Quay, also offered an entry point into the beautiful Botanic Garden. The smell of freshly cut grass reminded me of home. St. James theatre, our venue for the week, was only a stone's throw from the Wellington Waterfront. Some simply enjoyed a relaxing stroll, taking in the fresh sea air, while others experienced the nearby "Te Papa"- New Zealand's national museum.
Coffee on Cuba
Dancers and crew alike could be spotted spontaneously along Cuba Street over the course of the week. Filled with trendy local fashion and urban design stores for shopping, locally roasted coffee and dozens of tasty options could also be found amongst the variety of inner-city café s, lining the street.
An Evening of Culture – Spanish Sangria and Irish Tunes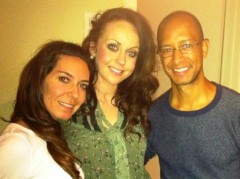 The newly engaged, Rocio Montoya (flamenco) and Kelly Isaac (tapper) hosted an evening of Sangria and cheese. Tasty dips homemade by Kelly and Rocio's zesty Sangria had us all in good spirits for the "trad session" to follow at Molly Malone's off Courtney Place. Instruments in tow, the shows band, blended perfectly with the locals, as the reels and jigs were belted into the early hours of the morning. All departments –dancers, wardrobe, lighting and sound, jumped up for the Walls of Limerick! Emma Warren graced us all with a beautiful rendition of "Carrick Fergus", bringing many to tears and some brush dancing on stage completed a fantastic night of cultural display.
A busy four show weekend brought our time in Wellington to a close. With only one week and city to go, the tour has flown by!!!
Last stop Christchurch……………
Soon to update from the South Island,
Your Moy Blogger, Aisling x