The final four weeks and the Riverdance Shrine
June 1, 2012
Fiona McCabe, Irish Dance Troupe, Shannon Company
Youngstown, OH:
Another 365 miles clocked up! Our 4pm arrival meant our day off was cut short however that didn't stop some of us from wetting our apetite at Olive Garden. Pasta all around!
Louisville, KY:
Cheered on the LA Lakers versus Oklahoma City Thunders in the local Irish bar! We had the privilege of staying in the Gail Hotel, the city's only hotel located on the Ohio River. The original house was erected in 1837 in which many noted people stayed. These include Abraham Lincoln, Jefferson Davis, Ulysses S and Charles Dickens. Obviously, they can now add Riverdance to the Hall of Fame!
Bloomington, IN:
Nestled in the centre of Indiana University, the elegant and stately Indiana Memorial Union is where we located ourselves for a quick one night stopover. It was established in 1909 and is the second largest student union building in the America. It is located next the Dunn Cemetery and west of Beck Chapel. This is my second visit to Bloomington and it has always been one of my favorite locations. It is just steps away form the Sample Gates and the famed Kirkwood Avenue. We were received as warmly as ever at the Indiana University Theatre.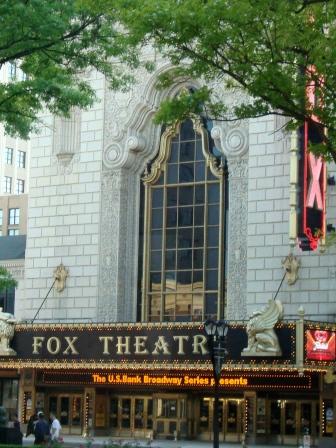 St. Louis, MO:
Another warm welcome from the staff of the Fox Theatre on North Grand Boulevard. We always enjoy performing at Fox Theaters as we have the pleasure of joining many legends in music and theatre who have also performed at the Fox Theatres. Such artists include; Stevie Ray Vaughan, Micheal Jackson, Duran Duran, Neil Young and Duran Duran. What an honor!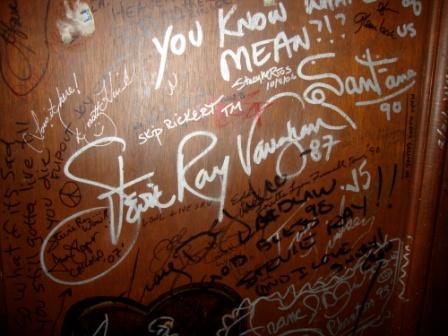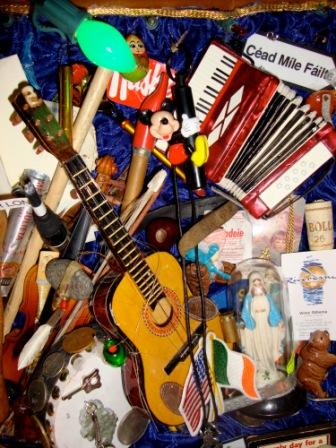 Well what a surprise was in store for us when we got backstage. There sitting proudly in the back corner stage right was what many past Riverdancers know as 'The Shrine'. This began with the American 'Lagan' Company in 1998 by crew fly man 'Bones'. Bones is now a local crew guy at the St. Louis Fox. This shrine was a small. old suitcase which over time gathered many bots of memorabilia by the cast and crew of Riverdance. This included small gifts given to them or souvenirs from night's out or places they visited. The shrine contains an old christmas card from directors John McColgan and Moya Doherty, a signed card by Robert Ballagh (set designer), photographs, flags, postcards, painkillers, tin whistles, drumsticks and old Irish currency! Eventually over time these mementos and keepsakes gathered to what makes up the shrine we have with us today. A new generation of Riverdance have adopted the shrine and we are happy to report we have it with us. We thank Bones for looking after the shrine with such close fondness. We assure him and all past Riverdancers that the shrine will go to a safe home.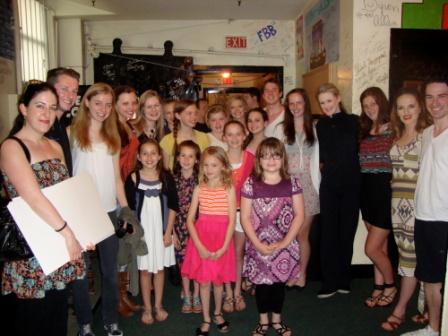 We were without our dance captain for duration of the weekend however we welcomed a blast from the past Mrs. Mary-Jo Clarke-Cange! Mary-Jo stepped in to fill Maeve's shoes. She remained with us for all five shows. We had quite the enthusiastic audiences on both matinees as both CAID ( Clarke Academy of Irish Dance) and over 200 students from St. Louis Irish Arts came to cheer us on! Perhaps someday they too can inspire young and upcoming Irish dancers to make it to the big stage in the future.
Bowling Green, KY:
I had the pleasure of taking some time out of my Tuesday afternoon to visit the Kentucky's only underground boat tour at Lost River Cave. Lost River Cave is on the National Register of Historic Places; a historic and prehistoric archaeological site. It dates back to 8000 B.C I forfeited my one and only 'lie in' to visit the river that 'Ripley's Believe It or Not' claims the be the deepest and shortest in the entire planet! We boarded the small, narrow flume-like canoe and calmly navigated down one of the six mile long river. It maintains a year round temperature of 57°F (13°C) inside the cave. Amongst the stalactites (stalagmites aren't supported in this environment due to frequent flooding) our tour guide informed us it was used as a hideout for Jesse James and his infamous gang after the Southern Deposit Bank of Russelville in 1868! The cave is surrounded by over two miles of trails, three blue holes, a spring and a butterfly habitat. That was, needless to say, an afternoon well spent!
STYLE FILE: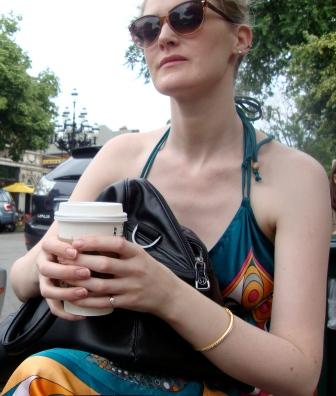 Fiona wears : Maxi, backless dress, 100% silk. I bought this in an indepenent boutique called 'Om Diva'. The store was located in the George's St. Arcade in Dublin's City Centre several years ago. It's perfect for sunny days. It's so lightweight and folds up small in my suitcase.
The sunglasses are Betsey Johnson ( a gift to myself in Hawaii!) I had this picture taken outside a coffee shop in the trendy, affluent neighborhood of Central West End.