What Riverdancers cannot live without – part II
June 7, 2012
Fiona McCabe, Irish Dance Troupe, Shannon Company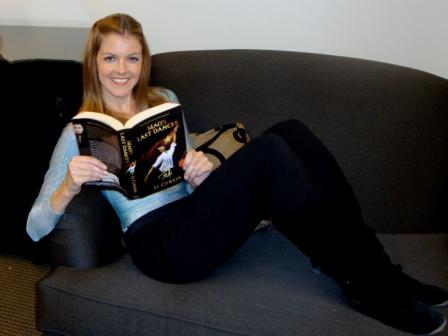 MORE RIVERDANCER'S REVEAL THEIR FAVORITES: Since my last blog( which revealed dancers favorite 'things)' got such a good response (if I may say so myself!), I figured I'd go ahead and do another feature this week. So, off I set backstage in Baltimore, MD with my pen and paper and set about seeking my next few victims! Unfortunate person #1 was Nicola Dempsey; Nicola is an avid reader especially when it comes to sitting on a bus for several hours at a time! I managed to get a sneaky photograph to support this. Ok! I'll be honest we set up the photo shoot so had her pose nicely for all the Riverdance fans out there!
I he asked Nicola to make a list of the books she's read to date since the Shannon began. They include the 'Hunger Games' trilogy, 'The Girl with the Dragon Tatoo' trilogy, Agatha Christie's 'Murder on the Orient Express' and an Amy Winehouse biography. "I like to read in a nice, quiet atmosphere….The bus is perfect for this!" she claims. Nicola is currently reading 'Mao's Last Dancer' by Li Cunxin.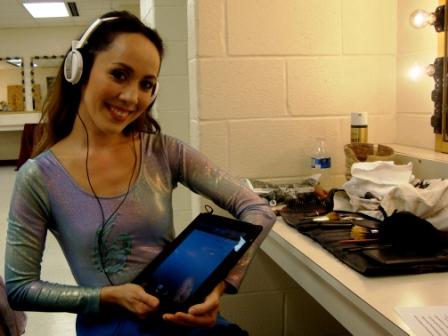 Let me next introduce to you the lovely Tokiko Masuda, who was over the moon when I asked her to feature on my blog. She had a hard time narrowing her selection of favorite 'things' to one, so we agreed to feature her top two favorites; those being her Apple ipad and Sony headphones. Tokiko got the ipad at Christmas and the headphones were a birthday gift. She always has them in her blue tote so whether it's at work or on the bus or in the hotel, she can listen to music, skype home or watch movies etc. Like Brian and Shane her ipad allows her to stay in touch with family and friends, write emails or check Liverpool scores. For those of you who don't know Tokiko she is Liverpool-mad. " I'm their number one fan….They just don't know it yet! " she adds.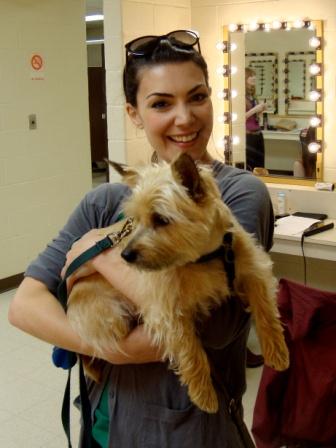 Along my travels backstage between dressing rooms and quick changes, I stumbled upon Miss Nicole McKeever who is also part of our dance troupe. Nicole managed to smuggle the cutest most well-behaved puppy dog into our make-up room and introduced us to 'Nora', her pet dog from New Jersey (NJ) . NJ is home for Nicole and her parents, upon visiting, decided to take Nora on their road trip. It is unfortunate for Nicole that the 'Rules of the Road' do not allow pets on the road with us. "Nora would be on the top of my list!' she adds.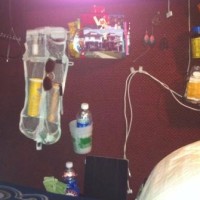 So, I know enough about the dancers. What about the crew? What do they like? What can they not live without? Well lucky for you readers and fans I nabbed Nichole Hull in the Riverdance wardrobe department. Nichole just finished mending one of the 'shivna' lead crowns. I asked her the same question I asked all the others. Responding with that contagious giggle of hers, she says; "Girl, I love my Netflix ,but I've a whole world of favorite things in my bunk!" Considering Nichole spends most of her nights on the crew's sleeper bus, this is where she stores all her prized possessions. Would she ever be so kind and share this with us? Why, yes of course! Nichole came back the following night to me with a snap shot of her very own bunk and all her personal effects stashed nicely for all of us to see!
As Nichole is a very loyal baseball fan, you can just about make out her Milwaukee Brewers blanket. She has a mesh pocket which has several compartments. Here, she stores her vitamins, midnights snacks, jewellery and such goodies. Of course not to mention her ipad for the beloved Netflix! And with that famous giggle she leaves me stating: "This is where I live, on the road, so I make damn sure I surround it with things I love!'
Read Fiona's Blog: What Riverdancers cannot live without – Part I