Riverdance Tour from Oz to New Zealand
June 1, 2012
Aisling McVeigh, Irish Dance Troupe, Moy Company
Following three great weeks in Australia, our final farewell performance in Adelaide marked the half-way point of the tour, and a scheduled move onto New Zealand.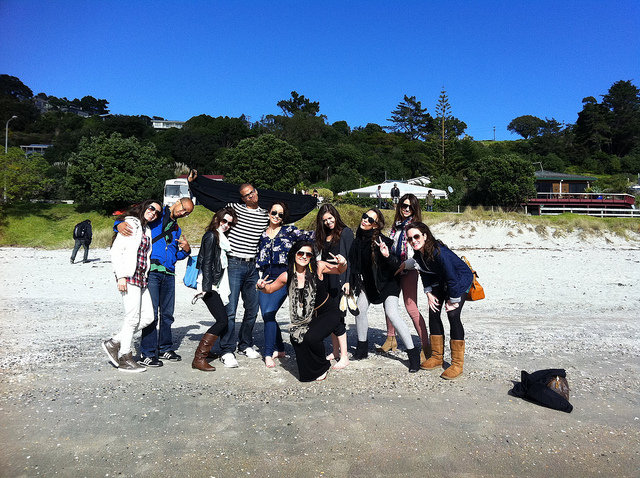 Travel Day to Auckland
The Adelaide audiences were fantastic and sent us off in true style as we boarded the bus only a few hours later, for the first leg of our trip to Auckland, NZ. We joined the birds in their chorus at 4.30am, with 2 flights and a bus journey ahead, before reaching our much anticipated destination. There was no time for duty free shopping as we sprinted (literally!!), after company manager Laurie Small, through Sydney Airport to make our connecting flight to Auckland. The half hour stopover didn't leave much time for terminal browsing!
All aboard, the eye-masks and sunglasses were out, (a common sight on travel days with such early start), as cast and crew tried to catch some zzzzzzzzz's before landing in this beautiful country. Upon touch down, the crew were whisked straight to the venue for load-in, as the cast declared any forgotten fruits left lying in the end of their bags at customs…
Mondays at the Moy usually mark a travel day, so with no show that evening many of us headed down to the Viaduct area for dinner by the water.
Day trip to Waiheke Island
It was a busy week for everyone on the Press front, but most still managed to fit in some sightseeing as planned. Waiheke Island, just a short, picturesque ferry ride from downtown Auckland, proved a favourite amongst cast and crew. A witty bus driver sporting an infectious, boisterous laugh brought us on a scenic bus tour around the island. It's coming into winter here now, but we were lucky to get a clear day of sunshine, allowing for fish & chips on the beach before returning back to the mainland, where a big dark rain cloud lingered over Auckland City.
Teapots and Ballads
With so many café's, restaurants and funky bars in Auckland, we managed to sample a few during our downtime. We sipped cocktails from tea pots in the Quirky Cassette 9 and sang-along with dancer Emma Warren, when she was passed a mike at Danny Doolin's Irish Bar on Sunday night.
As we reluctantly said goodbye to Auckland, there is still much to look forward too and planned for the 2 last cities that lie ahead.
To Wellington we go…….
Aisling