A 'newbie' with the show
May 9, 2012
Peta Anderson, Dancer, Irish Dance Troupe, Moy Company
Well the time has finally come, the Australia/New Zealand Riverdance tour has arrived in Oz and I am 30 minutes away from  the hotel where I will meet my fellow cast mates. It feels good that for once it's not me with the jetlag, because as you can imagine when you fly all over the world from Australia you don't get the shortest trips, that's for sure.
I have to admit that it still feels surreal to be part of this amazing show. I was in rehearsals a few weeks ago with the other five newbies and the music started playing.  We all looked at each other in disbelief with our smiles going from ear to ear. What made me realise that I was involved in this major production were very small things –  like receiving my Riverdance luggage tag in the mail a few days before I left home. Obviously it doesn't sound like a big deal but when it actually happens to you its completely different.
The first day of rehearsals in Newcastle  and I feel the nerves kicking in. It's the first time that I've danced within the full troupe.   Niamh O'Connor, the Riverdance dance captain begins rehearsals with a great cardio and stretch followed by a lot of core work.  I'll have abs of steel at the end this tour!
Those days before our first show flew by and then I was standing side stage for my first press call, just about to dance the number Riverdance.
Adrenalin kicked in and then I finally realised what I'm a part of and to top it off,  in my home state and country…. NSW,  Australia.
It was great to see some local Irish dancers at the press call, showing their love for the show.  The local Irish dancers were given the chance to learn part of the show from some of the talented troupe members. They danced their socks off!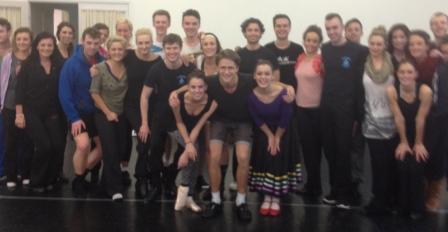 I will never forget how I felt the night after finishing my first show. It was nowhere near as daunting as I thought it would be, and I think that's because everyone has been so welcoming and helpful. I must admit there has been a fair amount of 'slagging' going around as everyone gets used to the accents, especially my Aussie accent.
I'm sure after a week in Australia they won't even notice my very posh accent…bloody oath, good on' em!
Keeping you up to date with the Moy Company!
Peta x