Oh! Toronto how I have missed you
May 8, 2012
Fiona McCabe, Irish Dance Troupe, Shannon Company
The CN Tower, Kensington Market, Little Portugal and Bloor Street… Oh! Toronto how I have missed you. Riverdance returned to the fabulous city in Ontario exactly three years later except this time it wasn't the Cannon Theatre on Yonge. It was to the exquisite Sony Centre in the heart of the financial district. For five final performances we bring you the phenomenon one last time.
Two bus loads of tired but excited dancers and musicians depart 1 Summers Lane, Hamilton, ON after another cracking performance. One hour later we are scattered within the lobby of the Hyatt on Queen Street West. Yes, Toronto we have landed! Please note we are well past the half way point in our tour and we have no concept of time anymore! Day equals night, night equals day. Being 11:30 at night doesn't even enter the equation and, as you can imagine, everyone is anticipating exploring Toronto in their own way. Some enjoy setting into their hotel rooms and check out all the latest luxuries within. Some are keen to accommodate hungry tummies and others simply want to paint the town red! Whatever the curiosity, something is on offer!

For those lucky enough to have spent the blissful five weeks here previously, we know our way around and I am more than ready to hit my favourite spots all over again. After a quick supper I retire to my dreamy bed and no sooner has my head hit the pillow but I am out like a light. After a short fight with the alarm clock, I surface at half past nine. Boy, am I glad I won that fight because it would be sinful to sleep through a gorgeous sunny morning such that it was that Friday. I begin with a quick hot tea in the Tim Horton's next to the hotel and with that I'm fuelled to hit the stores on Yonge-Dundas Square, in particular, the H&M in the Eaton Centre. Gentlemen you can choose to skip the next few lines if you please, women I urge you to read on!
Well once upon of time there was an Italian clothing designer who to this day is know as 'Marni'. Long story short her limited collection was still on display in this particular H&M. Bare in mind, many's the vogue magazine I stared at longingly wishing to own some of these 'Marni' creations. Wish granted: I managed to snap several outfits which were sitting all alone on a sale rack in the store. I am gladly reporting to Marni her collection has now gone to a happy home!
And we're back….
Subject shopping is now closed and I take you through the rest of my day up Chinatown past all the many authentic restaurants, Asian food stores, hair salons and beauty parlors. It's too early for dumplings but hunger strikes. I ignore the pangs, temporarily as I have brunch already planned. I finally reach my destination. Somewhere near and dear to me. I present to you; Kensington Market. Many is the afternoon I spent here lounging aimlessly about the narrow streets. I decided on an old favourite; The Grind House for a mug of cappuccino and a breakfast bagel. I sit out in the basking sun and do what I do best- people watch!
I am soon joined by Spanish dancers, Marita Martinez and Nelida Tirado (whom is temporarily filling in for Marita due to injury) and tapper, Jason E. Bernard. We spend the rest of the rest of the afternoon ducking in and out of old vintage stores, cheese-tasting and general fool-acting with locals
My Twitter obligations continue and I am happy to report that my capabilities to tweet on behalf of @Riverdance have, dare I say, improved! This time I report for the Sony Centre for the duration of our performances in Toronto. I was very proud to include live photographs from behind the scenes at 'Canada AM'. Our Riverdance male troupe did us proud (despite a grumpy early start that morning!) Wouldn't you think they'd be used to it by now?!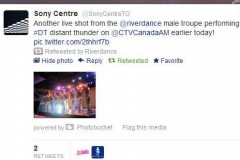 Peterborough, Ontario brought the end of an era for some of our dancers here in the Shannon. Veterans Padraic Moyles and Niamh O' Connor bid adieu to the American stage after serving many years with the 'American' Company. Niamh and Padraic were joined by Lauren Smyth, James Keating and singer/ tap dancer, Micheal Wood on their transfer to our sister company, the Moy. Here they join the Moy on a six week tour of Australia and New Zealand until June. We wish them all the very best. But, as the saying goes, one door closes and another opens and it did just that for their replacements. We have since welcomed Megan Baffa, Owen Barrington, Ben Mapp, Tokiko Masuda and Callum Spencer. They shall complete the remaining seven weeks with the Shannon Company.
And this is where I leave you folks. Back on American soil next week!. Who needs National Geographic subscription when you have the Riverdance blogs?! I will take you to far off towns you have never thought of visiting. Live the American dream with me.
Slán!