Back on the Road with the Moy Company in Australia
May 7, 2012
Aisling McVeigh,  Irish Dance Troupe,  Moy Company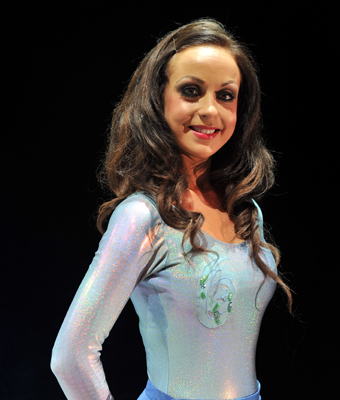 Packing for tour……a challenge I have yet to master
After many years on the road, I once again find myself sitting in the middle of my bedroom floor at home in Dublin, surrounded by a mountain of clothes and a busting wardrobe. I contemplate the task ahead. Armed with a travel itinerary strictly stating 23kgs and a brand new suitcase (my attempts to fit everything but the dog into the last one proved too much), I laugh to myself. That all too familiar feeling comes upon me as I imagine the scene I will have at the check-in desk in the morning, hoping to get away with the excess baggage as I will watch the numbers climb higher and higher on the airport scales. Urgent text messages are fired out to fellow cast members and I ring my tour room-mate (Shona Cobbe) to make sure that I am actually packing for the right season!! I download a weather app onto my i-phone for each of the cities we will visit, just to be sure.

Bidding Farewell to loved ones at home……
It's a normal Thursday morning at home, with the usual hustle and bustle as people scurry about the house. Rush hour hits the bathroom and kitchen in preparation for the workday ahead. One by one they leave for work.
After many years on the road, I still find it hard to say goodbye. Instead I opt for a low key exit and shout "see you later" to those left inside, as my taxi to the airport pulls up outside. I leave for work like everyone else that morning, except my briefcase is a little bigger than others and I know that I won't be home for dinner ….. I make-up for it by leaving an order for a Sunday roast upon my return in 6 weeks time.
Airport Reunions…..
Cast and crew are reunited at Dublin airport. Hugs, kisses and lots of chit chat fills the air, as we all catch up on the past few months. It's been a while since the Moy Company have travelled together. It's also an exciting day for new dancers Patrick O'Mahony, Emma Warren, John Lonergan, Louise O'Sullivan and Shaun Kelly who will perform with Riverdance for the first time ever on the upcoming tour of Australia and New Zealand. Peta Anderson from Sydney will also join the company when we land in Australia.
Only 1 kilo over, I am checked-in and feel a little proud that I didn't deviate too far from the stated baggage allowance. I think to myself, perhaps it's a good thing because now there's not an inch of space left for any outrageous clothing purchases along the way (to which I am usually prone)….deep down I know this will not be the case despite my greatest efforts, as does everyone else around me.

First Stop Newcastle, NSW, Australia…..
After 3 flights, lunch in London, dinner in Singapore and a bus ride from Sydney to Newcastle we arrive at our first stop. Niamh O'Connor, Padraic Moyles and James Keating join us from the Shannon Company. They too have had a long journey and everyone retreats to their rooms to sleep off the jetlag.
Rehearsals……………….
The first few days are spent at a local dance studio where the 6 new dancers work hard with dance captain Niamh O'Connor and Padraic Moyles. They are later joined by the entire cast as rehearsals for opening night get well under-way. The new dancers have been through an intense training programme with dance director Breandán de Gallaí in Dublin, before coming on tour. Their hard-work pays off as the curtain opens in Newcastle and the audience applauds the shows arrival in town.