Aussie dancers triumphant return to tassie with Riverdance
May 7, 2012
Paula Xiberras, TasmanianTimes.com
07.05.12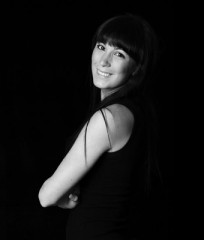 Australian dancer Peta Anderson is making a triumphant return to Tassie this week as part of the troupe of Riverdance. It's been an amazing story for the dancer from Sydney to have found her way in to the greatest dance sensation of recent times.
I spoke to the lovely Peta last week fresh from a successful performance at Newcastle as Riverdance begins its farewell tour of Australia. Peta is sad that this is being billed as the farewell tour as she would like nothing more than to be touring with this show 'forever'.
Peta has some Irish heritage on her Mum's side but that heritage is generations back so how did an Aussie girl get to be part of the phenomena which is Riverdance?.
It's a long story and is in part due to Peta's past foray into Irish dancing in a show that also came to Tassie. That show was Rhythm of the Dance. Rhythm of the Dance, although a presentation inspired by Riverdance is not representative of that show.
Peta's journey to Riverdance included taking part in 'Dance Off' a reality TV program on Irish channel RTE. The program invited dancers from all over the world to send in their DVDs to be one of 35 contestants on 'Dance Off' and Peta's DVD of her performance in 'Rhythm of the dance' saw her being among those chosen for 'Dance Off'.The program included 5 weeks of bootcamp which literally couldn't be a more appropriate phrase in the case of 'Riverdance!' Her success in 'Dance Off' saw her take the female lead in 'Noctu' a production by Riverdance alumni Breandán de Gallaí's which dealt with the story of dancing from the viewpoint of the dancers and all their wrestling with insecurities about feared deficiencies in talent versus the desperate desire to dance.
From 'Noctu' it was a short step, (pardon the pun!) to joining Riverdance .
I asked Peta about the origin of Irish Dancing and it's well known position of the dancer holding their arms stiffly by the sides. Peta confirms what I had read by some writers that the lack of upper body movement was significant at a time when the church frowned on and feared a display of such physical activity. One way lovers of dance could indulge in their passion and avoid the wrath of the church and prying eyes at their windows was holding their arms straight to their sides and thus appearing unmoved to what was visible at their windows while their feet danced up a storm unseen.
Riverdance is divided into acts, all of which tell part of the story of Ireland and it's relationship to it's culture. and mythology.
The first part of the performance is about pride of a people in their culture. A pride they would keep with them no matter how far they travelled from their home. And travel they did from that first enforced exodus due to nature, in this case the factor of famine. Riverdance is about that natural world and as the title says the story of a river, moving , undulating, meeting and merging with other rivers. It's migration is a metaphor for the Irish people themselves who migrated to new lands taking the pride of their culture, music and dance with them. Also like the river picks up materials along the way, the people pick up influences from other cultures along the journey and like the river return home shaped and formed by their experience. In their travels the Irish people merged with other cultures and acquired other influences to their dance such as tap and flamenco among others and these are explored in Riverdance .
The multiculturalism evident in the show is echoed behind the scenes of the production with the make up of the cast, which includes artists from Ireland, the US, the UK, Granada and of course Australia with our very own Peta Anderson and some other talented Aussies.
Riverdance will be performing farewell shows at the Derwent Entertainment Centre from the 9 to 13 of May.