Keeping fit on tour
April 15, 2012
Maeve Fearon, Irish Dance Troupe, Shannon Company
Moving to new pastures, this week the Canadian leg of our tour commenced, which was a nice change. Canada is unlike America in many ways with a slightly more European feel to it. Since we were visiting smaller cities however, it was a pretty uneventful week apart from Friday night. We were kindly invited to a gathering at Steve's home (Chloey Turner's boyfriend) in Barrie, Ontario. The house was amazing in a beautiful setting overlooking a lake and the homely atmosphere and gorgeous food was just what we needed. Steve is a champion ice-skater so we were taken in by pictures of famous people surrounding the walls and archives from his earlier days as an Olympic skater.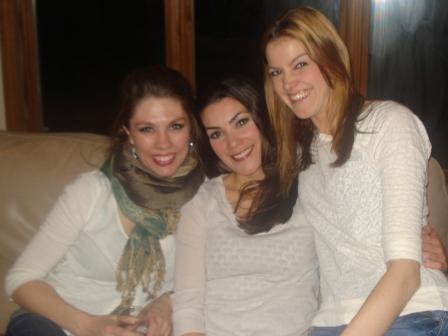 Chloey who is a qualified personal trainer was also kind enough to shed some of her expertise for readers this week.
Chloey started dancing relatively late at age 8 after watching Riverdance on TV. With a long history of sports participation, she was enticed by the challenging and competitive nature of Irish Dancing. In conjunction with her dancing career, she started to train extensively in the gym at home. "I am fascinated by the body and how it works. I wanted to learn how to improve my fitness, core strength, body tone etc for my dancing career and in the future wanted to be able to teach others how to improve their quality of life through fitness".
I started working with her on my first american tour last year. We worked on methods of improving fitness and core strength but I was also introduced to weights and resistance training, something a lot of us girls wouldn't dream of doing! Chloey comments "A lot of women think that by lifting weights it will make them bulky. It won't! There are many benefits including the fact that it can raise your metabolic rate which is an important factor in maintaining body weight. By just aerobic training you'll struggle to get a lean, toned body. I would advise you to combine aerobic and resistance training in your programme." Personally, I was sceptical at first but with the right regime, I firmly believe it is the best method for toning and strengthening your body.
Chloey recommends at least 30 minutes of regular exercise daily and a healthy diet to compliment this. She holds a strict diet with a healthy balance of carbohydrates, protein and healthy fats including avocados, nuts and fish. She normally eats on average six times a day with breakfast, lunch, dinner and a few snacks.
For dancers in particular, core strength is essential. Chloey maintains that core muscles are "designed to provide your body with stability, balance, strength and flexibility". Core strength can be improved by doing regular abdominal exercises which we do a lot of on tour. Our favourite is the "plank"' which is excellent for strengthening your abdominal muscles and achieving a flat, toned stomach. For dancers, Chloey also suggests doing pilates, yoga and stability ball exercises.
Since exercise and fitness regimes form such a large part of our job, it is easier to keep on top of it than with other jobs and lifestyles. To keep motivated Chloey advises to "set short and long term realistic goals." She recommends keeping a note of them and revisiting them daily. "Change up your exercises regularly so you don't get bored of the same routine. Make sure you include exercises you will enjoy and look forward to doing. Exercise classes can be fun, I particularly love circuit classes and spinning."
Keeping fit and having a healthy lifestyle is no easy task but it is essential for making you feel good, reducing stress and it can even make you feel younger. It is important to stay positive and Chloey believes you should always "Take pride in how far you've come and have faith in how far you can go".