Dancing off into sunset, for now
April 13, 2012
by Gary Smith for The Hamilton Spectator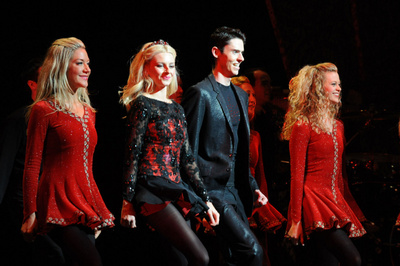 It's the last dance. After all those years of foot-stomping, heel-tapping, stiff-backed, step-dance prancing, the Riverdance folk are hanging up their shoes.  Well, that's what we're told anyway.
Truth is, it's only the North American market that will see a hiatus of the popular show.
"We're going to India and China, lots of places," says sprightly Caterina Coyne,  Riverdance star and champion Irish dancer. "And there will be a new Irish dance show in North America from the Riverdance folks before you can say leprechaun. You can count on that."
Coyne was born in Surrey, England, but grew up dancing in Ireland. This summer, she'll be dancing her feet off in Dublin at The Gaiety Theatre before having a holiday in Galway where she has a permanent home.
"You could say Riverdance started as a real phenomenon. I mean, it was a small part of a Eurovision Song Contest in 1994. It just took off from there. It was partly Bill Whelan's music and partly the smart dance steps I suppose. It's just been entertaining people ever since."
"It's a gruelling thing to dance eight Riverdance shows a week," Coyne says. "Hard on the knees, legs and back. It makes you ache all over. Doing it on tour, as we are now, every night is opening night and you feel such responsibility to make the show good."
Coyne says a physiotherapist travels with the troupe and is kept busy all the time.
"The thing is you forget how hard it is when you're up there doing the performance. It's just all about making the show work."
Coyne says the life of a dancer is governed by injury and health, so you protect yourself the best way you can.
"You've got to look after yourself. People come and go in this show, but I'm in it for the long haul. And that's because I love it."
Coyne has been stomping those feet for eight years now and she has no intention of stopping.
"I love the choreography. It's 100 per cent high-energy stuff. Is it traditional Irish step dance? Yes and no. The costumes, of course, are quite different. Irish folk dance outfits would be too heavy and cumbersome for what we do. I just know that before Riverdance there was nothing really for an Irish dancer. This show changed all that."
Coyne admits there are recorded taps to augment the live performance on stage, but she says these sweeteners on the soundtrack are just that, a form of augmentation.
"We're doing everything flat out, I can tell you that."
Coyne laughs when you suggest the show is as much about guys in tight pants and girls in micro-minis as it is about dance.
"If you're saying the show makes Irish dancing sexy, that's true enough. And it's definitely a show where you're free to express yourself. What isn't traditional about it is the way we use our hands. That's not really part of Irish folk dance."
Coyne dances the star part in this travelling production and she says that means being an example.
"The other dancers look up to you. And in some ways you are the face of the show. People expect plenty of you."
Gary Smith has written on theatre and dance for The Hamilton Spectator for more than 30 years
Ní Charra Returns to Fiddle for Final Riverdance Fling
<