Ní Charra Returns to Fiddle for Final Riverdance Fling
April 13, 2012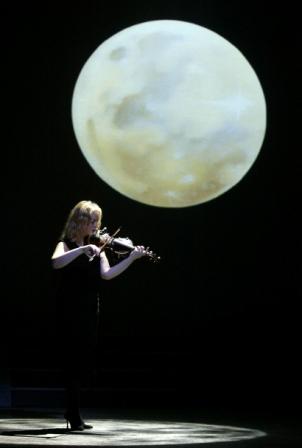 Although music has always had a prominent place in her life, Niamh Ní Charra didn't plan on a career as a professional musician. She was studying to be an electrical engineer, in fact, when fate stepped in to take her life in a completely new direction.
"I always loved playing music, but I also believed I'd never make a living out of it so I was studying engineering to have a career," Ní Charra said in a phone interview with Boston Event Guide. "I was playing a seisiún, which is a sort of jam session for traditional Irish music, at The Burren in Somerville and some people from the Riverdance show happened to be in the audience. When an opening came up with the company later on, they contacted me and asked if I wanted to join them. I immediately said yes."
Ní Charra ended up touring as a fiddler with Riverdance for eight years, leaving the show six years ago to pursue her own music career. Last year, as the producers started putting together the lineup for the show's grand finale tour, they asked Ní Charra to come back on the road for, as she put it, a final 'hurrah!'
"It's been a much more emotional experience than I imagined it would be," Ní Charra said about joining Riverdance for its final tour. "I knew it was a big deal just from the amount of emails and phone calls I've been getting from friends asking me to get them tickets – which is quite flattering in itself – but the emotion we feel from the audience when we're up on the stage is very powerful. I don't want to say this is just a job for us, because we all love performing in the show, but when you're in the middle of it it's not always easy to get any perspective on what it means to people. Folks grew up with this show. They take Irish dance classes because they saw it, or learn to play the fiddle after watching Riverdance. That's amazing, when you think about it."
Riverdance will be at The Opera House, Boston April 13-15. Tickets start at $28.
"one of the defining touring shows of the past 20 years"
<
Dancing off into sunset, for now
>