A busy time in Detroit
April 18, 2012
Fiona McCabe, Irish Dance Troupe, Shannon Company
From Saginaw to Syracuse, between easter eggs and new fiddle players, It is only now I've had a minute to come up for air and share with you some more stories from our life on the road. We have come past the half way point of our final farewell tour and things are still as exciting as ever! Indulge in my tales from our home away from home.
La Crosse, WI: Thank you DeWitt Flemming for a wonderful 2 weeks performance and we welcome back Jason E. Bernard. Our massage therapist, Susan Luger takes some time from the tour to return to Fort Lauderdale, FL. One of our tour buses' transmission acts up so the troupe all pile onto one bus. Squashed sardines anyone?! The glorious weather in La Crosse took the edge off our Chicago blues.
South Bend, IN: An onsite visit from a local chiropracter who volunteers his services backstage. Dancers and crew alike line up for a bit of back and neck 'cracking'!
It's officially summer; as I pay a visit to shoe carnival across from our hotel and invest in my first pair of summer sandals for 2012. (The first of many!)
Wabash, IN: We are faced with one of our most grueling days of tour today. With a journey of just under 100 miles we are faced with the prospect of a matinee and an evening performance at 3pm and 7pm. This was certainly a twilight zone-of-a-day! I was never happier to crawl inside my bed at the Holiday Inn Express that night.
East Lansing, MI: Our muggy, humid days come to an end as we are greeted by rain, rain and more rain. Thankfully the Wharton Centre where we perform is cosy, has high speed internet and thus offers minimal distraction from the misty weather conditions outside. Our loyal masseuse returns to us!
Sault Ste. Marie, Ontario: ON the morning of Wednesday, 28 March we made our first crossing of the border into the Maple Leaf State. It's good to be back Canada! I'm not a fan of the cold, biting east wind you bring but the sight of our very won Cadbury Chocolate candy bars and familiar certain foodstuffs to us Irish soften the blow a little. The individual fireplaces acting as the focal point in our hotel rooms also offered a warming welcome as we settled nicely into our rooms at the City Centre Travelodge.
Sudbury, Ontario: Happy faces and full tummies for us all as we board the bus to Sudbury the following morning. The friendly cafe at the Travelodge offered us warm, homemade bread, eggs and hot pots of tea for breakfast. It tasted so good I felt like I was sitting at my kitchen table at home. That toast certainly called for another cup of tea, Now we were ready to brave the sleet and cold temperatures of Ontario! Nicola Dempsey, Steven Brennan and I all enjoyed a leisurely swim at the Radisson Hotel on our arrival. It's not often we get to duck and dive in an 8 foot deep swimming pool.
Barrie, Ontario: A lovely afternoon was spent in a local coffee shop as five old friends caught up on life. Niamh O Connor, Padraic Moyles and I were whisked away for the afternoon by former principal dancer, Deirdre Hamilton and her fiance, Lazlo Pekar. We spoke about life on tour since they both finished touring after the UK tour in May 2010. How quickly time goes by. Deirdre and Lazlo are happily teaching dance and pilates in local studios in Barrie. We put our best foot forward for both of them as they watched the performance from the audience for the first time in years!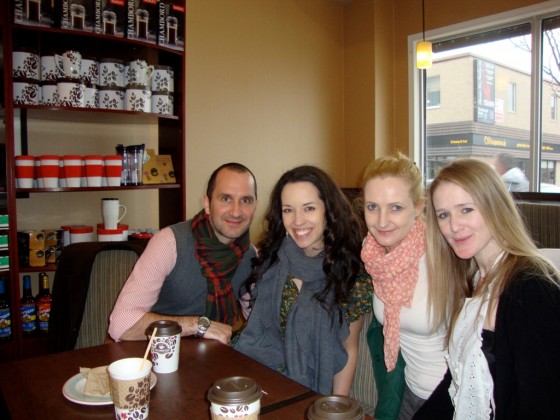 North Bay, Ontario: Although the stage in the Capital Centre had smaller dimensions than usual, the cast and crew of Riverdance worked hard to make the show happen. The hard work paid off as the house cheered us not once but twice when the curtains went up at 4 and 8 o' clock.
Kingston, Ontario: We said good bye to our very talented fiddle player, Miss Rose Duffy after a fantastic 6 weeks of performing with our company. We thank her for her hard work. Having big shoes to fill, especially those of Patrick Mangan's is not easy but Rose slipped right in. She will return to work as an occupational therapist in Chicago. We have since welcomed veteran, Niamh Ni Charra back into the Shannon company. This is the final change to the band list as Niamh will remain with us until the end of tour in the Wolf Trap Filene's Centre.
Syracuse, NY: What else can I say only March Madness?! We here in the Shannon Company like to indulge in a little petty gambling frmo time to time (as previosuly discussed in my former blogs!) This time we had bets put on teams for the College Basketball Playoffs. Each member picks a team out of a hat at the cost of $5 per team. Whoever's team won the final won the grand total of $150, that lucky winner being crew member Danny Erskine! We all sat around in a cosy sports bar in downtown Syracuse to cheer on Kansas and Kentucky. Personally, I have never watched so much basketball in my life. Maybe I'm a converted fan now!
New Philadelphia, OH: I treat myself to a bunch of beautiful purple and yellow cut tulips on our lunch stop. Anything to brighten up a hotel room!
Easter in Detroit:
Beautiful weather, a local baseball game, Easter Sunday plus a day off makes the Shannon Company a very happy Shannon Company. It's always a pleasure to a return to the wonderful Fox Theatre on Woodward Avenue. Now there's a reason why Saturday night in Detroit has ring to it! Tapper, Jason Bernard's old friend who is also a trumpet player happened to be playing at the jazz club near the Fox Theatre so we snapped up the chance to hear some live music.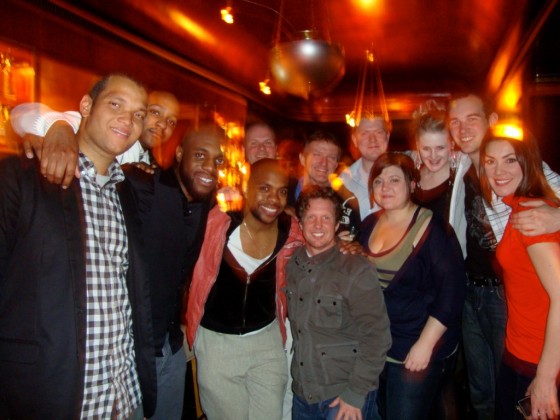 This was followed by a fun evening of continued music and dance at a very authentic Greek restaurant en route back to our hotel. A spectacular night was had by all. Saturday night's festivities paved the way for plenty of Easter treats and not just in the form of chocolate. We were spoilt for sports choice whereby many of the crew and some dancers went to see the Detroit Tigers in action in the nearby Tigers Stadium ( formerly known as Navan Field and Briggs Stadium). Sunburned faces puts it mildly; an unexpected extra long baseball game in the direct sunlight made even the sallowest look Irish! Others chose to relax in the snazzy hotel bar and opted for watching the golfing Masters via TV! For those looking to make the very most of two consecutive days off (which is rare with such a tour) some took a trip to The Big Apple on a brave 6am flight and spent the time off visiting various Broadway musicals and such. Needless to say, everyone made the most of the Easter break!
The Amish farmhouse: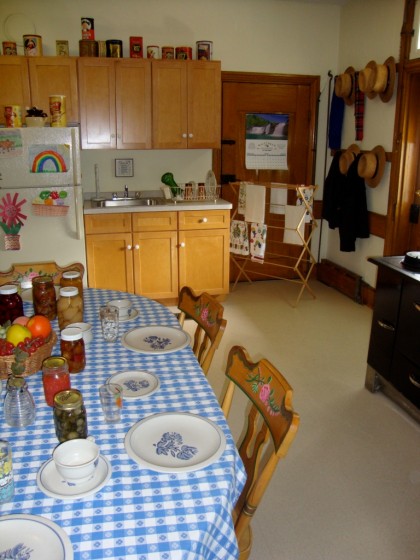 I don't know about you but I have always had a deep curiosity about the Amish people and their way of life. Amish settlements simply do not exist in Ireland where I come from so I made sure I satisfied my curiosity and paid a visit to one of the local Amish farmhouses. Lancaster, PA has a highly concentrated Amish population and I was so excited to get the privilege to walk through one of their own-built houses. My partner in crime, Miss Nicole McKeever decided to accompany me on my touristy trip and off we set early one morning. To get to walk through an almost 300 year old farmhouse was more than I bargained for. We were given a guided tour around the 14 roomed house including wandering the upstairs bedrooms. We were educated on the various typed of dress codes and color significance in the women's attire.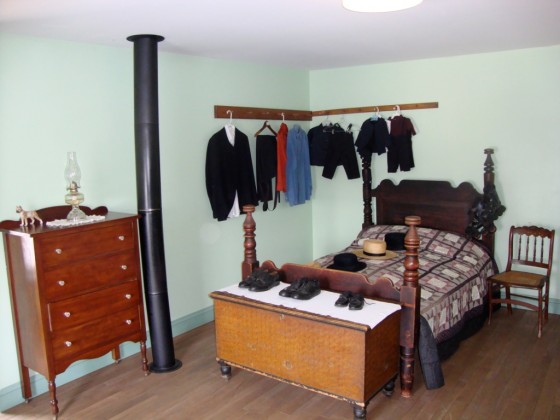 Apparently we're not the only curious typed around. The house has even attracted the very glamorous 'Vogue' magazine who did a spread on the clothing of the Amish society! It was moving to say the least to walk about the farm grounds. What once stood a spectacular 1,000 acre farm site has now been reduced to a mere 15 acres with the Lancaster-Philadelphi turnpike cutting past the goats pens and blacksmith sheds.
Although we have bid farewell to Michigan and Pennsylvania, we leave with heavy hearts but sweet, sweet memories. We look forward to making many more. Now raise you glasses to a successful fourteen completed weeks of tour and join me on my adventure with a continuance of tales from the lovely Boston and Canada.
Fiona's style file.
Vintage, mustard, pleated dress; Kensington Avenue  boutique, Toronto
– Brown framed sun glasses; Betsey Johnson, Hawaii
– Black capezio tights; Capezio.com
– Black ballet pumps; American Eagle, Vancouver
– Black 'bowling' handbag; Lululemon Athletica, Chicago
This bag is part of my new Spring Collection. I treated myself to this on St. Patrick's Day as a reminder of my trip to Chicago. It is ideal
for all the traveling I do. It has a built in padded compartment to store my laptop. the back small pouch is perfect for quick access to my cell phone!
Fiona