After 15 years, 'Riverdance' continues to kick up a storm
March 15, 2012
THEATER REVIEW: "Riverdance" at the Oriental Theatre ???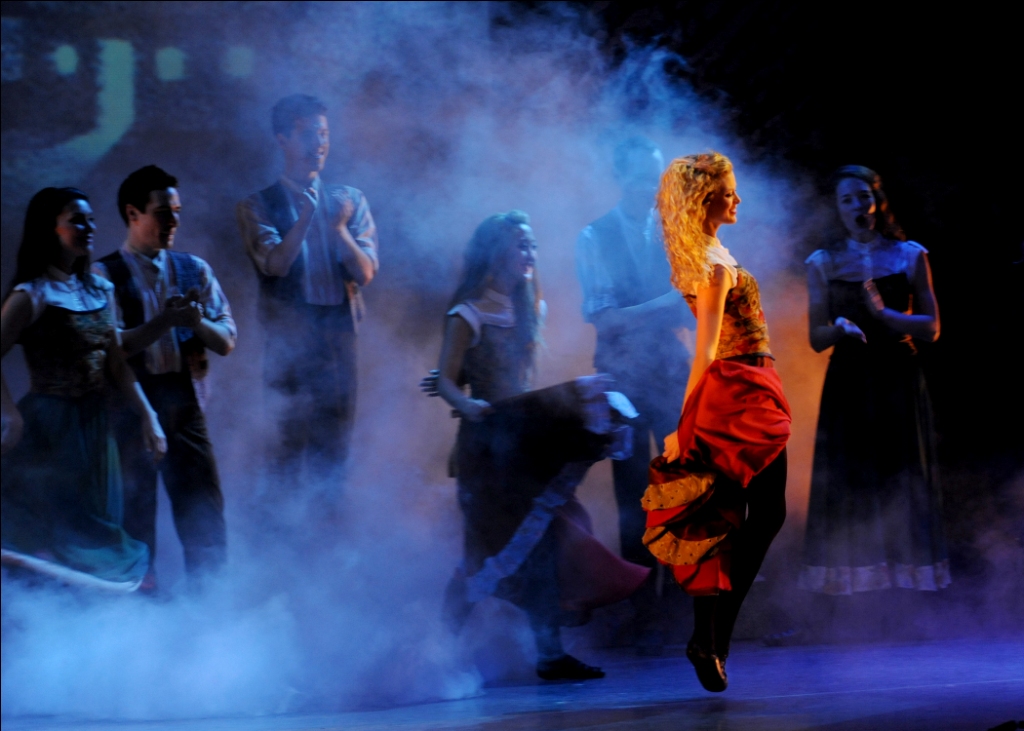 By Sid Smith, Special to the Tribune
March 15, 2012
Perfectly timed for St. Patrick's Day, "Riverdance," the spectacular display of Irish folk dance, speckled with the arts of a few other ethnicities in its mix, returns for what's billed as its farewell visit, on view through Sunday at the Oriental Theatre.
Surely it winds down as one of the more phenomenal and unlikely ventures in pop dance history, centered on what seemed in the beginning an eccentric craft, Irish step-dancing. But, in its tour, it then went on to make that craft familiar and even beloved while anchor of a unique variety show only now nearing its close after an impressive 15 years.
"Riverdance" rendered a highly competitive past time commercially compelling, while heightening awareness of the thrills, pluck and artistic subtleties of folk dance in general. Shrewdly throwing in flamenco and tap, it arrived as part of a broader, worldwide revival in percussive dance, a revival it helped inspire, and a reminder that people everywhere love to tap their feet and always will.
The show itself should be a bit creaky by now, but Tuesday's opening proved anything but. The energy is still sky high, the seductiveness still irresistible, in part, it must be said, because the trappings of the show were always a tad dated and greeting-card corny to begin with. The wholesome, New Age circus gloss isn't any more old-fashioned now than it was back in the '90s. You tend to look past it to relish the extraordinary technical virtuosity.
The cast is excellent, the enthusiasm infectious and the technical skills better than ever. That starts with Tuesday's outstanding principles, Padraic Moyles and Alana Mallon. She's graceful, thin-limbed but exquisitely muscled, keen in her stepping and yet able to stylishly master the ballet-like stretches that depart here and there from all the step-dancing clickety-clacks. Moyles, sporting a slight resemblance to actor Gabriel Byrne in his younger years, is an irrepressible showoff and peacock, as delighted by his own performance as anybody. But Riverdance always served as a cheerleader for its art, and Moyles is as persuasive a cheerleader as they come, looser and more freewheeling in his overall approach, but electrifying in his intricate footwork and breathtaking speed.
Indeed, the Act II tap and Irish square off, a metaphor for American immigrant conflict and reconciliation, is as exciting as ever, if not more so, Moyles deliciously showing off his uncanny athletics while well matched by two dynamite, post-Savion Glover contemporary tappers, DeWitt Fleming Jr. and Michael E. Wood.
The show always boasted fine flamenco specialists, but Marita Martinez-Rey is especially beautiful, combining rapid-fire feet with flowing, undulating and sensual body work. She also has some of Moyles' contagious enthusiasm, warmly inviting the audience into her art.
The musicians have always been a key component of the variety, and here the Uilleann pipes are mastered by Matt Bashford, Rose Duffy is a lickety-split fiddler and percussionist Mark Alfred is a one-man spectacle all by himself. Tap-dancer Wood doubling as baritone delivers his solo with mournfulness and compassion, and the clean, high-pitched voices of the choir are sonorous and pure.
When: 7:30 p.m. Wednesday, Thursday and Friday, 2 and 8 p.m. Saturday and 2 and 7:30 p.m. Sunday
Where: Oriental Theatre, 24 W. Randolph St.
Tickets: $30-$85.
Box Office: 800-775-2000 or broadwayinchicago.com