11 cities and more from behind the curtain
March 13, 2012
Fiona McCabe, Irish Dance Troupe, Shannon Company
To further our list of cities, please sit back and enjoy my updated version. Although it hasn't been as eventful, recreationally as past cities, do bear in mind that although life on the road is full of glitz and glam, it also at times quite ordinary – A good balance I like to think.
In Fort Smith, AR we were blessed with continuous sunshine and warm breezes as we take a lunch break en route to Fort Smith from Tupelo. It's essential to stretch the legs and get some lunch on the hour break, especially when we endure an early 392 mile bus journey prior to showtime.
In Kansas City we settled into the Hotel Philips next to the downtown Power and Light district. With three days and three nights here, we celebrated a whole day off Sunday to ourselves. Spoiled with sushi restaurant, organic supermarkets and a smart sassy hotel bar, we were one content company. Dance captain, Maeve Croke was the host of a wine and cheese night to ring in the glamorous 86th Oscar Academy Awards.
In Watertown, SD we have our first sighting of snow.
In Grand Forks, ND late night diners and restaurants were few and far between. We settled for supper in 'Space Aliens'. Thumbs up to the staff for five star service and friendliness.
In Duluth, MN there was snow, snow and more snow – what an audience to brave the blizzard this evening.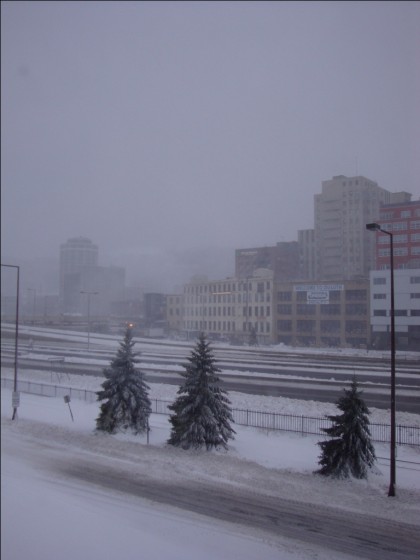 In Mankato, MN I opt for the quesadilla at Buffalo Wild Wings.
In Brookings, SD the cold front continues, making it difficult to walk less than 30 feet from Applebees to our hotel entrance. Happy to tuck myself into bed and watch back to back episodes of 'The Nanny' and 'Roseanne'.
In Omaha, NE a visit from an old veteran of the show, former dance captain and male principal, Marty Dowds. The cast of the Shannon Company agree to a meet and greet of the students of the Dowds Academy.
In Sioux City, IA we celebrated our former colleagues who won 2012  'Got to Dance' finals in London. Way to go Prodijig! A very happy birthday to Miss Jesse Baffa also as she celebrates another birthday on tour.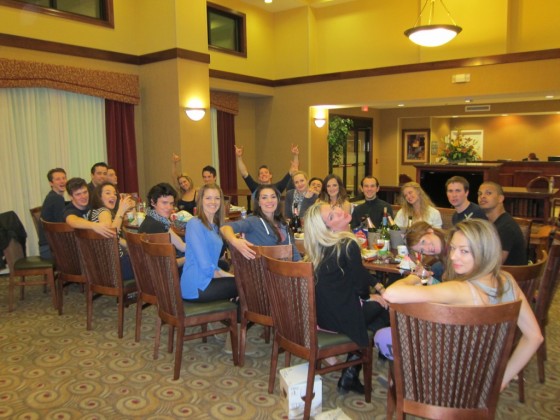 In Davenport, IA another birthday! Breithla shona duit Miss Nicole McKeever. Celebrations got underway in the fancy bowling alley in the Black Hawk Hotel, one of the few original buildings of Davenport built in the early 1920's. Strike…..! We return to the Adler Theatre within the space of a year where we are joined by tapper DeWitt Flemming Jnr. who replaces Jason Bernard for two weeks. Welcome back DeWitt. Last but not least, we applaud our fellow female troupe dancer, Nicola Dempsey who rejoined us after a short ankle ligament injury.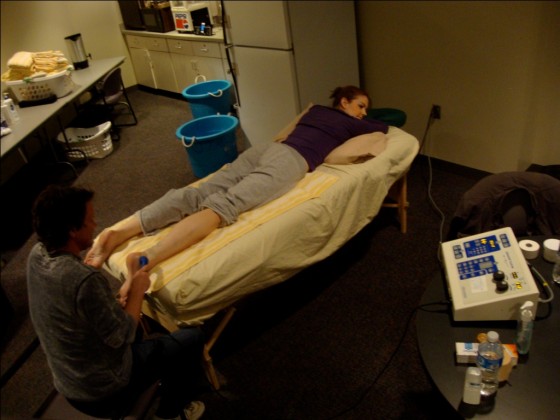 In Champaign, IL the highlight of most peoples day seemed to be laundry, laundry and more laundry. With a lack of amenities (within walking distance) we are usually forced to attend to slightly more mundane chores!
In Springfield, OH the rain that fell this morning reminded me of a perfect lazy Saturday morning. I happily finished my Agatha Christy novel 'Murder on the Orient Express' for a candid biography on the life of Amy Winehouse.
Weekend Premiership League Fixtures:

Once upon a time, the cast and crew of Riverdance used to bet their leftover dollars every Friday in what was known as Dollar Friday. We used to congregate backstage where head carpenter Jaimie Gormley picked out winning raffle numbers from a hat. Each ticket costs a dollar, the more you spend, the greater the chance you'd win. However this Friday tradition seemed to have slipped away when the Boyne Companywas replaced by the Shannon Company. We cannot  complain however as a new idea was born. We can still stake our well-earned dollars on the Premiership League Fixtures every weekend. One predicts the score in the match between two clubs. If your prediction is correct (both score and club) one scores 2 points. If the score is incorrect but the correct team win, one gets a point. I am happy to report out winner this week was James Keating. James is now rolling in a hefty sum of $90! Well done James. Last weeks winner was crew member Danny Erskine.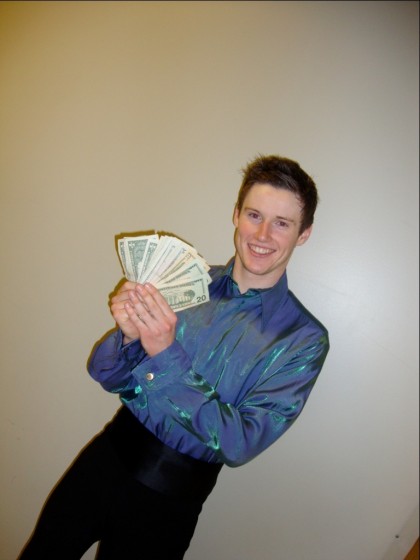 So what happens behind the curtain?

Many is the time I have been asked: "So what really happens backstage?"  "What do we do to prepare ourselves for the show?"  "What do we do to pass extra time?" Well do not let me hold you in any more suspense. Here's a sneak peek:
With Chloey Turner's background training and knowledge in fitness instruction and personal training, she doesn't waste a moment and dives in to assist Billy Kanaly with his weights training. Chloey has many years of experience in helping people with weight lifting training and with a marathon under her belt, I wouldn't want to get on her wrong side! She often delves in in helping the dancers backstage with strength and endurance training. We are certainly lucky to have her on board.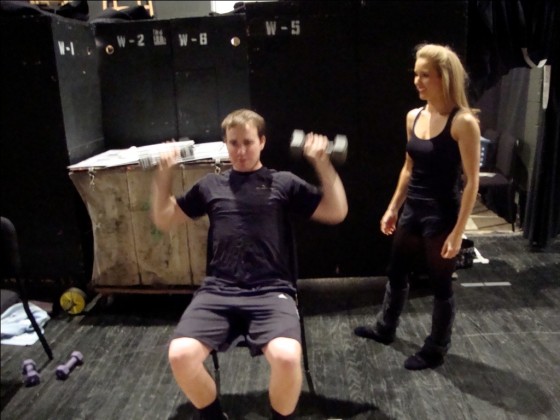 Patrick Barnett takes some time out to sign the Riverdance Commemorative Edition books. That autographed book has definitely just appreciated in value!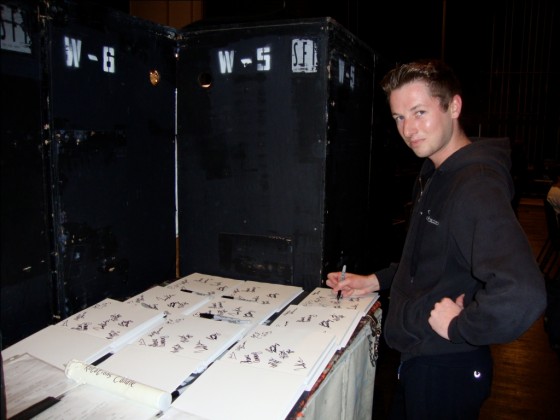 Before most performances we have a window of opportunity to use some 'stagetime' for a twenty minute period before the theatre opens to the public. This usually happens one hour before call time. With new dancers constantly joining the show, it is important they learn all numbers to share the load and rotate with other dancers. Having the stage free prior to the show allows us to easily work amongst ourselves and use the space to block numbers. It gives us a realistic perspective on how it would feel to dance each piece live. Here Stephen Brennan is lending a hand to Patrick Barnett for the males piece in Countess Cathleen where the interact with the six troupe girls and the female principal dancer. It looks like Brian Shinners and Shane Cummins are under close observation too.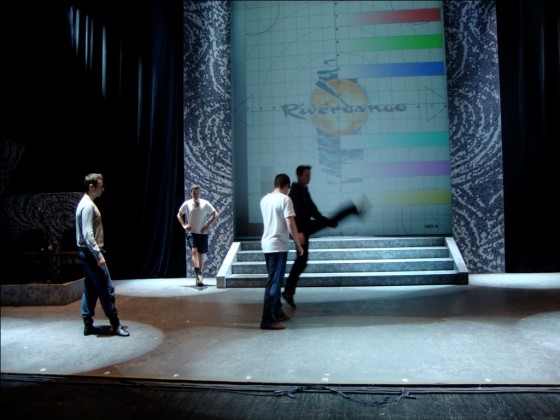 This is but a small insight into what happens backstage. Of course everyone has their different means of warming-up, stretching and keeping active. While some have praying rituals, others listen to personal ipods and others simply beautify themselves. We have each learned to respect what our fellow colleagues do before each performance and this is what allows us to maintain our focus on stage and deliver 100% to our performance night after night.
I finish this blog from the comfort of my hotel room in Peoria, Illinois. I have had a grueling week of travel but with the support of friends out here I make it through. I am all packed for our 10 o' clock departure in the morning. The thoughts of a day off tomorrow, lodging at the Hard Rock Hotel on Michigan Ave. and having zero plans seems like a very good idea to me right now. How nice it will be to settle into the one hotel room for more than one night. How nice it will be to unpack and perhaps even hang up some clothes. How nice it will be to settle in the one theatre for more than one performance and familiarise ourselves with a city. With our producer and dance director coming to visit we will undoubtedly be on our best behavior but above we will make sure to have plenty of fun! I feel a smile run across my face. Here's to Chicago and what should be a promising week.
Fiona
Fiona's Style File
_____________________________________________________________________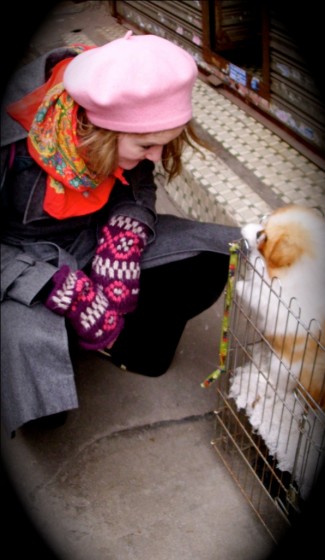 This photo was taken back in China on our December 2009 tour. It was bitterly cold in all cities bar the first in Shenzen. Unfortunately I could not take the darling dog!
– Double breasted, three quarter-length grey coat. 100% pure wool. (Irish designer, Patrick Howard)
– Pink french beret, 100% wool, bought in Appleton, Wisconsin.
– Red,vintage paisley-print neck scarf (belonging to my grandmother).
– Purple wool mitts from Urban Outfitters bought in Baltimore, Maryland.
_____________________________________________________________________