2012 Flora Womens Mini Marathon – Remembering Dr Eithne Walls once again
March 13, 2012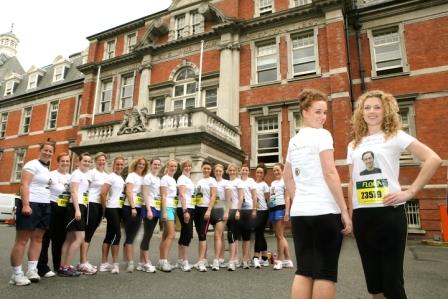 It's that time of year again when the memory of former Riverdancer, Dr Eithne Walls, will be marked by her friends, family and former colleagues running the 2012 Flora Womens Mini Marathon to raise money for Dublin's Royal Victoria Eye and Ear Hospital's Research Foundation. More information on the work enabled by the fund can be found at www.researchfoundation.ie.
Eithne, a former Riverdancer and a Doctor at the RVEEH, was a passenger along with her friends and colleagues Dr Aisling Butler and Dr Jane Deasy on the ill-fated Air France Flight 447 which disappeared over the Atlantic on June 1 2009. Each June Bank Holiday since then her friends, family, and former colleagues in both Riverdance and the RVEEH have come together to run the Mini Marathon as a way of remembering Eithne.
If you're already planning to take part in the run and perhaps looking for a cause to support, the RVEEH would be delighted if you'd like to do so on its behalf. To receive a t-shirt and sponsorship card please contact: Emma-Jayne.Verner@rveeh.ie. You can register for the run itself at www.florawomensminimarathon.ie but please remember that registration will close on April 20th or earlier (which is most likely based on recent years) if the race is fully subscribed.
If running the event is not for you this year, please do take a minute to sponsor the runners and to support the important work being undertaken by the Research Foundation – you can donate online at www.researchfoundation.ie where you will also find more information on Eithne, the Foundation's work and also some pictures from last year's run. Here's hoping for some sunshine and plenty of runners for the RVEEH on June 4!"
11 cities and more from behind the curtain
>