Riverdance makes Hawaii debut
December 3, 2011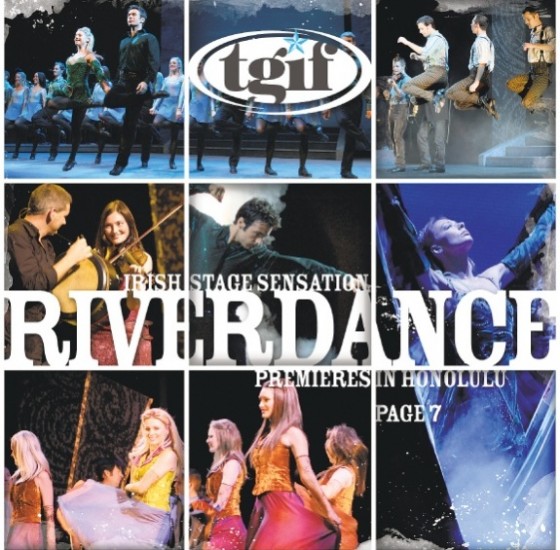 In the 17 years since a televised Irish step-dancing performance set to original music captivated Europe and started it all, Riverdance has become an international sensation, spawning hit soundtracks, a Broadway show, touring companies and rival Irish touring shows, as well as a new, global appreciation for the beauty of Irish dance and music.
There have been many firsts, including performances for the Queen of England and in Beijing, where "Riverdance" was the largest Western musical production to be presented in China.
In the U.S., Riverdance made its debut in 1996 with the first of six runs at Radio City Music Hall, and held down the Gershwin Theatre on Broadway for 18 months in 2000-2001. Over the course of the current tour, Riverdance has stopped at some cities two, three and even four times, traveling the equivalent of "to the moon and back," producers note.
In a few months, there will be a "last" — a last show, as the North American tour of Riverdance comes to an end.
But not before Riverdance chalks up one more first. On Wednesday, the company lands for the first time in Hawaii.
The touring company includes six principal dancers, 18 troupe dancers, a live five-piece band, flamenco dancer and two American tap dancers, one of whom is also a baritone soloist.
Most of the dancing is drawn closely from traditional Irish step dancing, in which the arms and body move little and heels, toes and legs create the sound and action. Troupe members are expected to be "champion-level" Irish dancers. However, acrobatics, tap and, yes, flamenco also have a part in the production, along with en pointe pirouetting and graceful arm movement drawn from ballet.
Sound, backdrops and lighting add to the sense of drama, as does the show itself, which portrays Ireland and Irish culture in a mythic fashion, from ancient existence through Celtic actualization, famine and the great American emigration, before bringing it all back home again.
PADRAIC MOYLES (pronounced "Poor-ick Moy-ells), the dark-haired, deeply dimpled lead dancer for the company, was in a California hotel room in between performances when I called. He was happy to acknowledge some extraordinary experiences connected with Riverdance, like making a music video with Shania Twain, performing at a private event in Egypt with Mariah Carey, and returning to Ireland for summer performances. But Moyles was most animated when he spoke of the inner fire that motivates him to perform.
"I want to exceed people's expectations," he said, his Irish accent muted by the lengthy time he's spent on tour in the states. "We come from a competitive background. You go out there every night and give it everything you have. You must always prove yourself. Going to Hawaii? That's a massive motivating factor for me. I hope that everyone in Hawaii realizes that it is our first time and also our last," he said, sounding more stoic than wistful, but adding, "One of the reasons I've always stayed in America is I didn't think the audience could be any better anywhere else."
After this North American tour ends, however, Moyles will move on with Riverdance, to Australia, New Zealand and back to Ireland. The production will continue in Ireland and on other stages, but not in America.
JULIAN ERSKINE, Senior Executive Producer who called in from Dublin, said a deep love for the show's artistry abides within the team, even after all these years.
"The level of enthusiasm and pride in what they do is what comes off the stage," he said. Erskine advises audiences to "watch the feet," though there are other temptations.
"Remember that 95 percent of this happens from the waist down," he said cheerfully. "The dancers actually play music with their feet. You hear extraordinary rhythms beating out. You're hearing a left and right, a treble and a bass being broken out with the dancers' feet. Look at the musicians. There is not a sheet of music anywhere. We've always insisted that is be treated like a ceili — a party. Its not a performance. It's not a sort of masque. It's live. It's organic. It's an event powered by pride."
Where:                Blaisdell Concert Hall Honolulu, Hawaii.
When:                  December 7 – 11, 2011
Cost:                    $25, $45, $55, $75; opening-night military discounts at box office
Book Online:     www.ticketmaster.com
Box Office:         800-745-3000
Honolulu Star Advertiser 2nd December 2011 by Elizabeth Kieszkowski