Saying goodbye in San Diego
December 1, 2011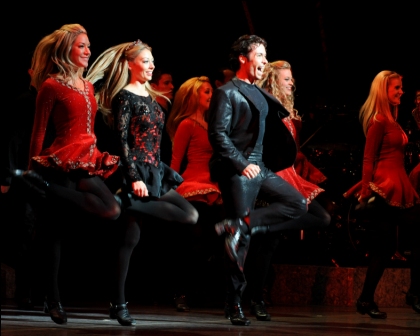 EXTRACT from   www.signonsandiego.com     Written by    Nina Garin
Because Riverdance has been around for 15 years, it's easy to think that the popular Irish dancing show will be around forever, like "Cats" or "Fiddler on the Roof."
It won't.
Producer Moya Doherty will be closing down the North American touring production by June 2012, which means when the show returns to San Diego this weekend, it really will be the last time you can see those quick tapping feet in town.
So if you've never seen Riverdance, a dance sensation with over 10,000 performances around the world, it seems like the time is now.
And in honor of the long-running production, here are some fun facts about one of Ireland's most popular exports:
The origins:  Riverdance  started as a seven-minute dance segment, choreographed by its original star Michael Flatley, on the 1994 Eurovision Song Contest (yet another reason to bemoan that the United States doesn't air this fascinating talent competition).  It then made its world premiere in February, 1995 at Dublin, Ireland's Point Theatre and it's United States debut at Radio City Music Hall in March, 1996.
The popularity: That there are hundreds of spoofs on YouTube just shows what a pop culture sensation this show's been over the years. Riverdance  has been seen live by more than 22 million people throughout 40 countries. It's also sold more than 10 million videos, making it one of the best-selling entertainment videos, ever.
Secrets of the road: The current company travels with 60 people, which, according to the show's spokeswoman, is about double the amount of most Broadway touring companies. Riverdance  also brings along its own special floor, which is put down over the existing stage floor. They also bring along their own massage therapists.
The future:  Before saying goodbye to the United States, the company will travel to Honolulu, Hawaii for its first engagement there.  And it won't be completely gone as there will still be two Riverdance companies touring countries such as Australia, New Zealand and India.
When:     7:30 p.m. Friday; 2pm 7:30 p.m. Saturday; 12:30 and 5:30 p.m. Sunday
Where:   San Diego Civic Theatre, 1100 3rd Ave., downtown
Telephone:  (800) 745-3000
Online:    ticketmaster.com  or  BroadwaySD.com