Review 'Riverdance is a cultural sensation'
December 10, 2011
REVIEW BY WAYNE HARADA / Special to the Star-Advertiser
To the list of things Irish — soda bread, whiskey, coffee, corned beef and cabbage, U2 and Daniel Day-Lewis — add Riverdance.
The Irish cultural sensation is all about the ecstasy of the feet — step dancing with unified cadence, creating a tap-estry much like "42nd Street" musical lineup of dancers on steroids. With Riverdance, the flow mostly is swift, frenzied, and constant, literally like a gushing river to which the show owes its name.
There's a collision of sound and movement, but a happy one; the music is richly Celtic, but with occasional soft-as-silk vocal variations and periodic departures into the realm of flamenco dance. And yes, even bluesy tap executions reminiscent of Gregory Hines or Savion Glover splendidly staged as a Celtic/street dance competition among 10 of the snappiest feet (five guys) in the ranks.
The production, which debuted in Honolulu Wednesday night for a brief run through Sunday at the Blaisdell Concert Hall, features two dozen dancers who frequently move as one synchronized unit, engaging in stunning precision and galvanized by tradition.
Its frenetic, fierce tempos appear competitive but are winningly collaborative, with potent and thunderous step dancing; the technique raises cultural dancing to theatrical levels as storytelling and emotions are expressed via feet with arms and body generally rigid.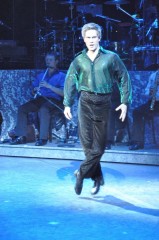 It is high-energy, high-octane, high-voltage stuff. The amplified footwork (mics in the shoes? on the floor?) heightens the excitement and the adrenalin.
"Riverdance" is rooted in Irish history; the name is derivative of a flowing river, with tributaries coming together the way cultures meld. The tradition taps Celtic tales, some with mythological influences.
The title song that closes Act I is an evolutionary tale with historical relevance, as the full cast of dancers projects the power of flowing waters fertilizing, then flooding, barren land but prompting a burst of celebratory joy. It's the production's iconic parallel of the leggy, kicky signature of the Radio City Hall Rockettes.
Lead dancers Craig Ashurst and Alana Mallon bring requisite glamour and style in several numbers, showing workout agility in one instance, feeling the love in another.
Ashurst also is buoyant, at times springing into high leaps and twirling like a top. Mallon switches from balletic beauty to step dancing sizzler in her solo turns.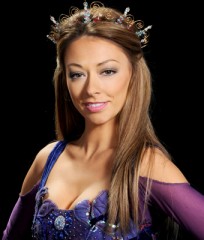 Marita Martinez-Rey is a Spaniard who specializes in the rich tradition of flamenco, providing fiery and seductive twists with arms and hands help telling her stories.
Not surprisingly, the audience favorite is the aforementioned tap-challenge routine, dubbed "Trading Taps," where rigorous step-and-tap exchanges pit Michael E. Wood and Benjamin Mapp as soulful street dancers vs. Ashurst, Padraic Moyles and Jason O'Neill as traditional step dancers. With pride at stake, spectators can take sides, too.
The atmospheric musical score, by Bill Whelan, provides the colorful sound pallet that blankets the production. Happily, there are charming and revealing instrumental interludes by soloists in the five-piece band that's on stage, notably Patrick Mangan on fiddle and Matt Bashford on the Uilleann pipes. On one hand, the instrumentalists take solo turns centerstage, sans dancers; on the other, they're periodically integrated with the choreography — a very smart use of talented resources.
The production employs a central screen, framed by hanging banners, to project images that alternately look like photos and paintings to "set" the dance pieces. In some instances, there's video in the holographic realm.
A team of choreographers is credited with the dance creations, including Michael Flatley, the iconic step dancing soloist who left the Riverdance ranks to lead a spin-off "Lord of the Dance" company. And so the river flows.
Set in 13 scenes plus a finale, Riverdance runs nearly two hours with an intermission. With all that energy shared, there's no apparent sweating on stage. But as one spectator was heard as she exited, "Makes you wanna go home and get dancing. Except I sweat." Indeed.
———
Remaining performances for Riverdance are 7:30 p.m. Thursday, 3 and 8 p.m. Friday, 2 and 8 p.m. Saturday, and 1 and 6:30 p.m. Sunday. Tickets are $25, $45, $55 and $75, available at the Blaisdell Center box office, all Ticketmaster outlets at Walmart and the Sports Gear Warehouse in Windward Mall, charge-by-phone 800-745-3000 and online at www.ticketmaster.com.
Read Wayne Harada's Show Biz column Sundays in the Today section of the Honolulu Star-Advertiser, as well as his Show and Tell Hawaii blog at www.staradvertiser.com. You can reach him at wayneharada@gmail.com.