Q&A with Riverdance veteran
November 3, 2011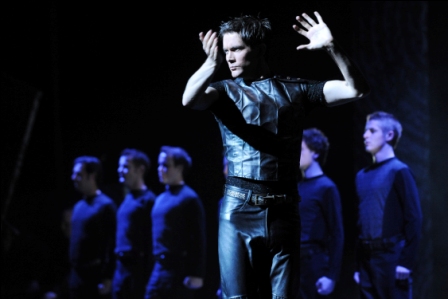 By Marc Benjamin
The Fresno Bee
Tuesday, Nov. 01, 2011
Like an Energizer bunny with killer calf muscles and especially good posture, Riverdance just keeps on going.
The latest touring production bills itself as the Farewell Tour! but no closing date has been announced. As long as fans of Irish dance continue to flock to theaters, Riverdance will likely endure.
We caught up with principal dancer Craig Ashurst, an Australian, to ask a few questions about the show, which plays Wednesday and Thursday at the Saroyan Theatre.
How long have you danced with "Riverdance"?
I started with the show in May 2005 in Dublin, Ireland. This was a very special place to begin. My mother was born and raised there and Dublin is where "Riverdance" began. Since that time I have been lucky enough to tour various parts of the world that I would never have been able to go to without the show.
It has been such a blessing to be a part of something so special that touches the widest range of people in such a colorful light.
I'm sure you've been asked countless times about how tough this kind of dancing is on your body. Do you think Riverdance dancers have it worse physically than, say, American football players?
I would find it very difficult to compare as I am not too familiar with American football. However, from the little I have seen of it, they push their body to the limit every game in order to achieve a certain result at the end of the day. It is the same with us! We push ourselves every day and twice a day on the weekends, so naturally it is gruelling.
We find that if we look after ourselves very well and treat our bodies with respect when we are not dancing, the show's standard is enhanced and we are in a better state of mind.
Also, there is a physiotherapist on tour with us along with a massage therapist. They constantly work their magic to keep us in shape. We even jump into ice buckets after the show to reduce the inflammation of our bodies.
When you're a "Riverdance" veteran, what's the secret to keeping a performance fresh on stage?
Apart from looking after your health, you need to have a peaceful state of mind. To be on tour means that you need to be mentally strong and in order to perform to the best of your ability eight shows a week in often different cities, you tend to seek sources of motivation and inspiration in any way you can.
Different dancers will go about their preparation in different ways. I might be listening to music while having an aerobic warm-up, while another dancer may be undergoing a Pilates session. It depends on the person. As an example, sometimes I like to watch some old clips of Gene Kelly and Fred Astaire to motivate myself.
Are Australia Riverdance fans any different from ones in the United States?
I have never toured with "Riverdance" in Australia, but the show was there in the middle of 2011 and after a successful tour has been invited back in 2012. The Australian people are known to be quite successful in the arts and are also very patriotic, so whenever anyone from home hears that I, an Australian, perform with "Riverdance," they are naturally excited.
In the United States, the crowds tend to go wild at the perfect times. This is lovely to see and it allows us to push our performance to another level all the more. I think Americans feel an intense connection with the show, given the high number of Irish American people who live in the USA. This connection is evident through the successful 16 years of "Riverdance" in the United States.