New Entertainment App for Free
August 24, 2011
Now available for free download the official Riverdance app for all you want to know about Riverdance wherever you are.

Download Free on iTunes or Download Free on Android Marketplace
The interactive Riverdance app gives easy access to international tour dates and shows near you, with instant ticket booking information.
Explore the show scene by scene and get to know the Riverdance cast for each tour and the creative team behind the show.
Keep in touch with regular news updates, tweets and dancer blogs as they tour the world with the show and share with your friends and Riverdance fans on Facebook and Twitter.
View the internationally acclaimed Riverdance show videos, TV appearances and cast interviews and browse the fabulous photographs from performances of the show throughout the world.
Read international fan reviews of the show and post your own review.
Be the first to receive special ticket offers, details of international tours and exclusive app only competitions.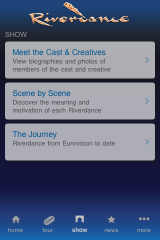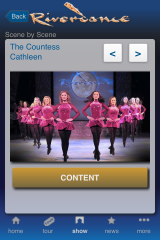 Features include:
Tours
On the go access to international tour dates and venues details with geo directions to locate venues from your current location and instant tour booking details by phone and online.
Show
View scene by scene slideshow and cast biographies and photos
News
Keep up to date with regular news updates, dancers' blogs and cast tweets.
Reviews
Read international fan reviews
Videos and Photos
View at your leisure a wealth of Riverdance performances , video extracts from the internationally best selling Riverdance DVDs and photo albums of the show's live performances and stars.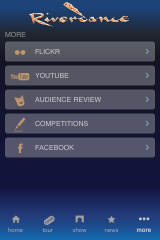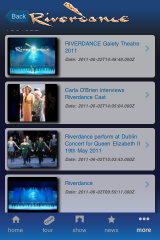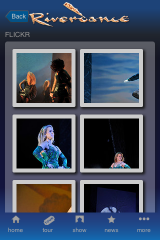 Ennis Riverdancer travels the world
<