REVIEW: Riverdance taps into city's heart
May 8, 2011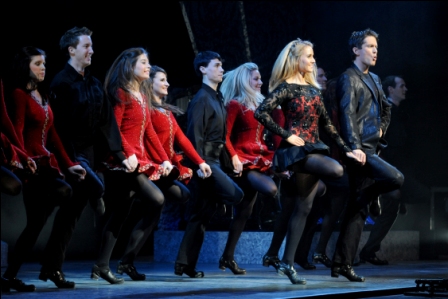 The Star Phoenix
May 7th 2011
While Riverdance may be on its farewell tour of North America, the Irish dance craze is nowhere near tapped out.
The packed opening night of the Saskatoon run of Riverdance proved the city still has a hearty appetite for Irish step-dancing — an athletic, energetic dance style that first captured global attention 17 years ago.
Riverdance premiered on the 1994 Eurovision Song Contest as a seven-minute segment, and its show-stopping popularity and subsequent touring production and TV specials fuelled enthusiasm for Irish dance well past the '90s.
Enthusiasm remains strong for the percussive flashing feet and precise choreography demonstrated by a cast of highly trained professional dancers from around the world.
Australian lead Craig Ashurst received major approval for his lightning-quick kicks and ankle flicks, while his female counterpart, British-born blond Chloey Turner added a lyrical flair to her traditional footwork with expressive arms and effortless leaps.
Elaborate, sparkling costumes add interest, with dancers making numerous, rapid costume changes throughout.
Original stars Michael Flatley and Jean Butler are long gone, but the legacy lives on. Butler remains best known for her work in Riverdance; Flatley — who created much of the Riverdance choreography — went on to create the rival production Lord of the Dance.
The two-hour Riverdance show is loosely based on the story of Irish culture and mass immigration to America, the story woven through music and dance styles including flamenco and tap.
The production's major downfall was a voice piped over the loudspeaker, narrating a story that could easily be explained through dance and song.
The 20 Irish dancers are joined by an expressive flamenco dancer who performed two standout dances, and a pair of American tap dancers who performed what was one of the major highlights of the show, an energetic "dance-off" that had the audience clapping and cheering along.
The five musicians more than pull their weight, accompanying dancers with keyboard and synthesizers, fiddle, saxophone and drums as well as traditional Irish instruments such as the uilleann pipes, low whistle and bodhran, and the choral group is as precise as the dancers with pitch-perfect harmonies.
Though the show hasn't changed much in its many years on the road, it still provides an entertaining experience that by the end of the night seems guaranteed to have the appreciative audience on their feet. The cast dancing in Saskatoon this week is in the middle of a 75-city tour and will continue across North America in May and June, making three-day stops in 13 more cities in the United States.