Riverdance invited to perform for Queen Elizabeth II
May 11, 2011
Riverdance is delighted to be invited to perform in the presence of Her Majesty Queen Elizabeth II and Prince Philip, during an evening celebrating Irish music, theatre, dance and fashion at the Conference Centre in Dublin's Docklands on Thursday 19th May, the last evening of the Queen's state visit to Ireland.
The event is being hosted by the British ambassador to Ireland, Julian King, on the behalf of the Queen as a "return event" which the visiting dignitary hosts during state visits.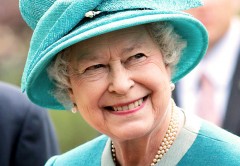 The Chieftians, Westlife and Mary Byrne will be among the headline acts with Riverdance to play for the invited 2,000 guests to celebrate Ireland's links with Britain.
President Mary McAleese will be the guest of honour at the event.
The evening's entertainment is being produced by Riverdance director John McColgan, entrepreneur Harry Crosbie, film-maker Gerald Heffernan and magazine publisher Norah Casey.
The event is expected to be recorded and then braodacst on RTÉ Ireland's National Television Broadcaster at a date to be confirmed.
REVIEW: Riverdance taps into city's heart
<
Cast for Riverdance performance for Her Majesty Queen Elizabeth II
>