Life on the road with Riverdance, Illinois to Kentucky, USA
February 9, 2011
by Fiona Mc Cabe, Irish Dance Troupe, Shannon Company
I am writing this from our Riverdance tour bus (Bus 1) from Waukegan, Illinois to Owensboro, Kentucky. We will have covered approximately 386 miles today to reach our new venue this afternoon.
After an early alarm call of 6:45am, we loaded up our suitcases and personal belongings to depart the hotel in Waukegan at 7.30am. We stopped for 30 minutes then at a rest stop at 12pm. After a brief drop off at the hotel we will go to the venue and head to catering which is normally provided for us on travel-show days like today.
Typically after eating, all the female cast will spend the next 30-40 minutes preparing for the show doing their own hair and make-up. At this stage we are all so experienced we could do it in our sleep!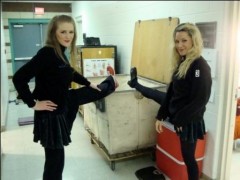 We then change into dance tights and suitable warm-up clothing, typically tracksuit pants or leggings and light sweaters or tshirts.
At the one hour call (One hour prior to show time), we all do our individual warm-up on stage.
Some do yoga alone or in groups, some will skip to increase their cardiovascular fitness. Others will do some abdominal and core strengthening work and others will do upper body weights to stay in shape.
Today is like any other day for us. We will begin the task of preparing for the show in several hours.
At beginners call there will be a last minute rummage for dance shoes, elastics and electrical tape. The likelihood of laces snapping or tights ripping is as imminent as ever. The scent of tiger balm and bio freeze will fill the quick change room. The noise of saxophone scales and constant trebling and tapping will be as loud as ever. It is now 'clearance'…We all rush to the teepees backstage like obeying children to the sound of a school bell. It's Showtime……
To date on the Riverdance Tour USA 2011, we have travelled to and performed in 23 cities in over 11 states
Precise steps trip in time to percussive music
<
This original Irish dance show is frenetic and compelling
>