This original Irish dance show is frenetic and compelling
February 11, 2011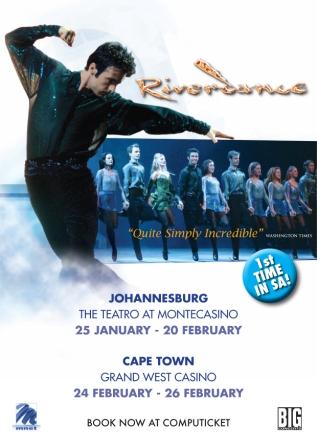 Shanthini Naidoo
Feb 11, 2011
www.timeslive.co.za
That rhythmic tap-tap-tapitty-tap at warp speed, like a fast steam train, and, in perfect alignment, black-stockinged feet slice the air to shreds so quickly it looks as if they may snap at any moment.
It is fascinating.
Having seen the over-the-top, glamorous spin-off, Michael Flatley's Lord of the Dance – after he broke away from the original Irish music and dance show in the 1990s over artistic differences – one would expect Riverdance to be a watered-down, dated version of the show.
In fact, the original is simplistic, without dramatic stage sets and lighting, grand costumes or fireworks – yet it remains impressive.
The difference between the two is that Riverdance features as much music as dance, simple outfits and decor, leaving the limelight to the performances, which are delivered in short bursts so they do not become repetitive.
Soporific angel songs and dramatic instrumentals by the three-piece band, along with those wondrous feet-flying performances, do not need any dressing up.
There is a storyline to the show, which audiences won't be blamed for missing. It is not highly involved, nor does it take away from the performance, which is in itself completely distracting.
The show tells the story of the Irish, celebrating the natural beauty of their country, its evolution, their participation in war and escape from slavery, stories of emigration and the eventual return to the homeland.
This story unfolds not only through the energetic dances but also through the music. The score is by Bill Whelan, who won a Grammy Award for the album Riverdance in 1997.
Expect solo performances by a highly talented musical team, with the ubiquitous Irish fiddle, flute, drums and an audience favourite, the bagpipes.
While the singing and music can be lilting at times, almost interrupting the star of the show – the dance – there are some surprises, and audiences should listen out for a small tribute to South Africa.
A too-long theatrical hymn of sorts precedes the best act of the show: the dance-off parody about American and Irish dancers called Trading Taps. Somehow the choreographers managed to include comedy in this showpiece.
It is definitely the highlight of the show.
One of the male leads, Brendan Dorris, who has been a part of troupe for about four years, is a show stopper – and doesn't he just know it, often encouraging the audience to applaud both his and the cast's efforts. As if they need any egging on.
The question is always: "Is it worth going to see?"
Most definitely, if you can get your hands on a ticket.
The Johannesburg Riverdance shows are sold out and limited tickets are available for the shows at Cape Town's Grand West Arena starting on February 23.