Precise steps trip in time to percussive music
February 7, 2011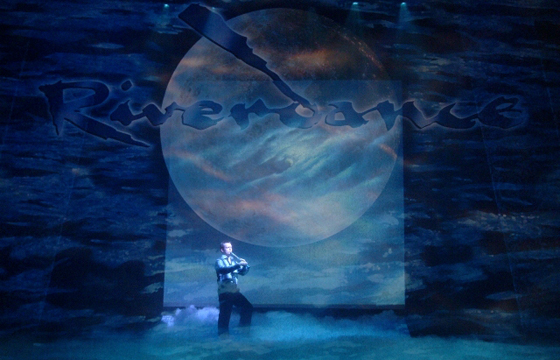 GAIL SMITH
gsmith@citypress.co.za
6th Feb 2011

I missed most of the hoopla around Riverdance when it first hit the scene and became an inter-national sensation in 1995. So I went into the Teatro theatre at Montecasino with an open mind and limited expectations.
I emerged two hours later astounded and feeling like my head had been blown back. Riverdance is almost impossible to describe in words. The immense skill, timing and precision of the dancers is breathtaking. And add to that a four-piece band comprising a drummer, a violinist, a whistler, a saxophonist and a host of incredible singers, and you have a heady feast of Irish music and dance.
The story of Riverdance is simple: it tells the tale of the Irish people, of the potato famine that saw a mass exodus to America, and of freedom, poverty, eventual salvation, and integration into American culture, and then the story loops back to contemporary Ireland.
The hallmark of Irish dancing is that the dancers' arms and torsos remain ram-rod straight, while their feet move with lightning speed. The troupe move as one and their synchronisation is astounding considering the speed with which they move. There are times they almost seem to levitate. It is a feat of enormous athleticism, which they achieve with seeming effortless ease. The dancing is interspersed with singing, musical solos and dance solos.
The dancers alternate between wearing traditional flat ballet pumps and tap shoes. The show is a must for dance lovers, especially those who love classical ballet. Watching the lead dancer Maria Buffini move seamlessly from frenzied tapping to going on pointe is something to marvel. The four-piece band comprising Guy Rickarby on drums and percussion, Niamh Fahy on fiddle, Eamonn Galldubh on Uilleann pipes and tin whistle, and Toby Kelly on saxophone provide the musical foundation for the show. While each is an exceptional musician, it's Rickarby who is also the show's musical director, who earns every cent of his fee. As the percussive backbone of the show, he never gets to rest. Niamh Fahy worked a few bars of Nkosi Sikelel' iAfrica into one of her solos, causing paroxysms of delight.
Riverdance is not only a celebration of Irish dance, it also doffs its hat to other percussive dance gen-re such as flamenco and African-American tap dancing. (Local gum-boot dancers would not look amiss). And the show cleverly works in both of those styles with flamenco solos by Rocio Montoya, and African-American tap performed with panache by Kelly Isaac and Gilbert L Bailey II. River-dance touches gently on history here, by acknowledging the similarities between Irish tap and African American tap; the Irish were low on the social totem pole when they fled to America and were usually the overseers of the slaves. The relationship between these communities is depicted by a fan-tastic dance-off between Isaac and Bailey on the one hand and four male dancers, including Padraic Moyles, the male lead.
Riverdance made two hours whip by like 15 minutes. It is a tour de force of music, skill, percussion and precision. It's not to be missed.
Riverdance runs at The Teatro at Montecasino until February 20, it then moves to Cape Town's Grand West Casino from February 23 to 27.