The Irish dance up a storm
February 6, 2011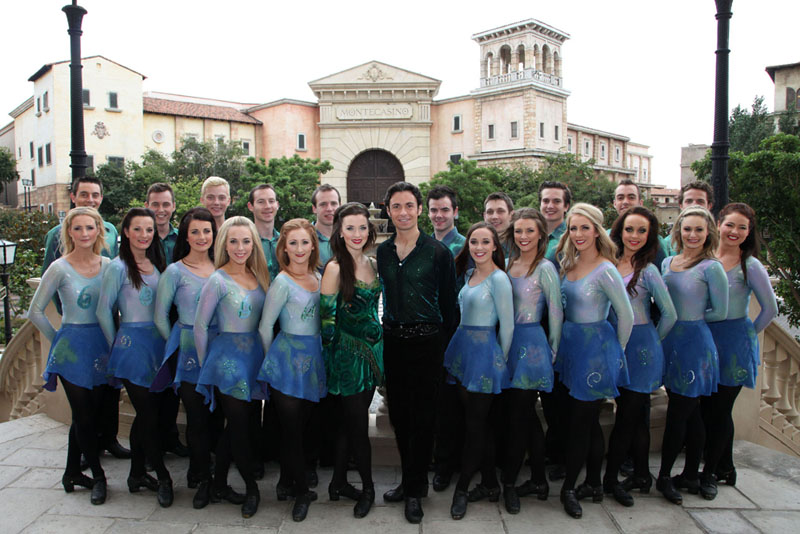 Sheer artistic eloquence of world-class troupe wows SA audiences.
Sunday Times, South Africa, 6th Feb 2011
The Riverdance Irish Dance Troupe is probably most readily recognised by its perfectly synchronised foot-stomping steps, or as the troupe calls it, "hard-shoe routines".
But, as this Riverdance production artfully shows, there is much more to these artists than just their impressively percussive feet.
Riverdance, not unlike Richard Loring's African Footprint, unfolds as a series of short scenes featuring dance, Music and song, telling the story of a people who – originate from a "primitive and powerful world", who have an intimate relationship with nature no longer typical of our modern technological times, and are forced by "war, famine and slavery" to journey away from home.
At some point, adversity is overcome, and the travelling "emigrant feels the tug of the home place". And, having travelled the world, experienced a plethora of different cultures, the returning people come to realise, in the show's finale, we are more similar than we are different: "We are one people now, our voices blended, our music a great world in which we can feel everywhere at home."
Although there's evidently a clear story governing the drama of the entire show, it is also possible to thoroughly enjoy Riverdance without paying attention to the story at all, as I did.
In truth, the narrative is really there to help the choreographers and directors Figure out what to do from one scene to the next. From an audience's perspective, the Linear story, told through three or four sentences of pre-recorded narration used to introduce certain plot-steering scenes, washes over an audience like white noise, paling in comparison to the real magic on stage.
When you're popularly known for your "hard-shoe routines", it is easy for people to forget what a multifaceted show Riverdance truly is, full of unexpected moments of sheer artistic eloquence.
Comprised of "world-class Irish dancers", the troupe takes pride in the fact that the dancers have collectively won "hundreds of championships in Ireland and abroad", and all have "progressed to world championship level before being chosen to perform in Riverdance".
While it's the choreography and the dancers' captivating vigour that dazzles, it is perhaps the music and the mellifluous choral singing, textured with unexpected modern-yet-listenable chord choices, that moves one's heart in the end.
And the best part about it is that it happens often without you noticing it.
Is it schmaltzy, or overly saccharine, or sentimental? Not at all, and that did surprise me. Judging by the artistically interesting music selected, the adventurous ways they've incorporated the lilting, melancholic traditional sound of Irish music into a modern score by Bill Whelan — who won a Grammy award in 1997 for his Riverdance album — the show is a thinning example of sheer entertainment, fastidious attention to technique, and an artistic freedom to play teatively all coming together without compromise.
Teatro Montecasino, Johannesburg, until February 20
Grand Arena, Grand West Casino, Cape Town, February 23-27