Riverdance on Ice Special airs on NBC
February 3, 2011
NBC Airdate: Saturday, February 19, 2011   4:00 – 6:00pm EST
Now nearly 17 years since Riverdance debuted at the Eurovision Song Contest, and the world's fascination with the dance spectacular continues unabated. Now, it has just been announced that an 'On Ice' version of the hit show is coming to US television.
The entire Riverdance company will perform simultaneously with a cast of Olympic, National and World champion figure skaters for an NBC Sports TV Special. The special will air on NBC on Saturday, February 19 from 4-6pm EST, before being rebroadcast on the Hallmark Channel on March 15 and 21.
The performance was filmed last Autumn at the Tsongas Center at UMass in Lowell, MA. The internationally-acclaimed company of dancers, singers and musicians performed on a specially-designed stage along with the choreographed, champion skaters on the ice, all to the sound of Bill Whelan's Grammy Award-winning music.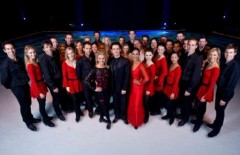 Riverdance to perform at Gala Night in aid of St Francis Hospice
<
The Irish dance up a storm
>