Riverdance to perform at Gala Night in aid of St Francis Hospice
February 3, 2011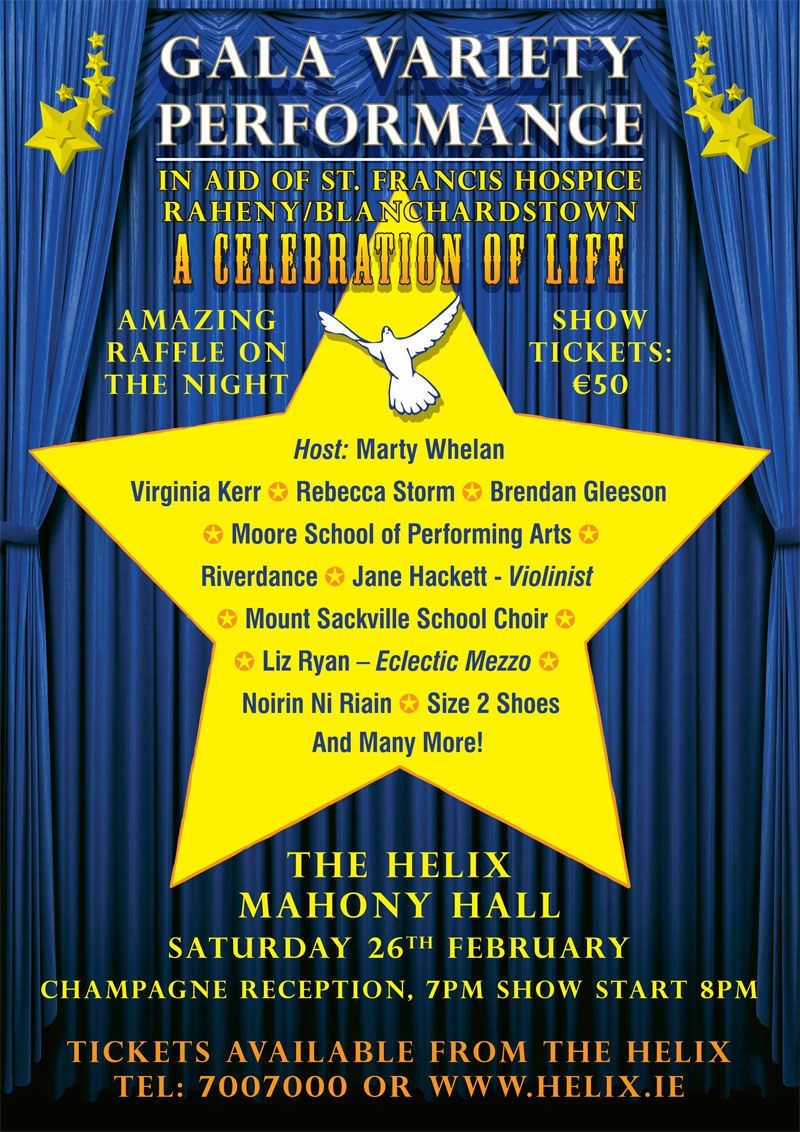 A Celebration of Life – And New Beginnings
Emmy-award winning actor Brendan Gleeson will lead a gathering of some of the finest talent in Ireland to raise vital funds in the Variety Gala Concert in aid of funding for St Francis Hospice, Raheny / Blanchardstown in the Helix, Dublin on Saturday, February 26th, 2011.
Riverdance, along with the powerful performer that is Rebecca Storm, the choral excellence that is Noirin Ní Riann and the Mount Sackville Choir, the much-acclaimed soprano Virginia Kerr and the musical zaniness of Size2shoes will perform. The event promises to be one to remember for entertainment, and one never to forget for a worthwhile cause.
It's a night that Gleeson has specifically made time to attend and perform at. For the actor, who last year won an Emmy for his portrayal of Winston Churchill in Into The Storm and is currently finishing the Harry Potter series the St Francis hospice in Raheny is an important cause that's close to his heart. Both his parents died there recently,
"It was a great gift to give someone who had been through the mill the grace of a beautiful death. In a way St Francis Hospice was for me a renewal of faith in human kindness. The whole structure is set up for the person who is dying and it is an extraordinary life affirming thing, to a have death embraced in that way," said the Dublin-born star. Brendan will perform an extract from Dubliners, with his two sons, Domhnall and Brian, who are now two successful actors themselves.
The night, which has been organised by Eileen Ring and Lesley McDonough on behalf of the hospice, hopes to raise much needed funds to help both hospices.
St Francis Hospice has a long tradition of giving to the community. Located in the heart of Raheny for more than 20 years, they are currently in the process of building a new hospice in Blanchardstown.
The MC for the night is RTE's Marty Whelan. The line-up is Brendan Gleeson, Domhnall Gleeson, Brian Gleeson, Riverdance, Virginia Kerr, Rebecca Storm, Noirinn Ní Riain, Size2shoes , Mount Sackville Choir with violinist Jane Hackett, Liz Ryan and the Moore School of Performing Arts.
Celebration of Life
Gala Variety Performance
The Helix, Mahony Hall, Saturday, 26th February, 2011 Tickets: €50 from www.thehelix.ie, or phone 01-7007000